France pledges to continue helping Afghanistan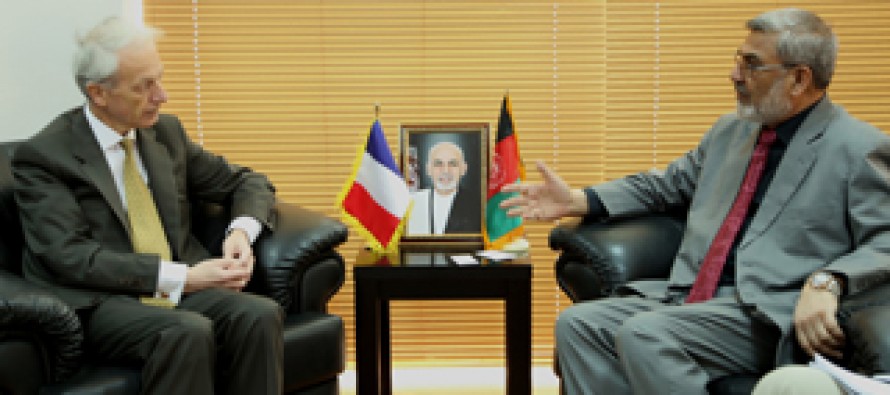 In a meeting with Nasir Ahmad Durrani, the Rural Rehabilitation and Development Minister, Jean-Michel Marlaud, the French ambassador to Afghanistan said that his country has a long standing relationship with Afghanistan and will continue to help the Afghans by fully cooperating with the Ministry of Rural Rehabilitation (MRRD) in their efforts to build the rural areas in the country.
Ambassador Marlaud also stated that the French government will support the MRRD with their development projects in Panjshir province. The meeting was held at the Ministry of Rural Rehabilitation and Development, where the two sides discussed various developmental issues.
In return, Minister Durrani expressed his gratitude to the French ambassador by thanking the French government for always providing assistance to Afghanistan, especially in dire times of need. Mr. Durrani also stressed that  the help the French government provides particularly in rural areas is of great value and urged the country to continue with their contributions to the MRRD.
---
---
Related Articles
Afghanistan's first iodized salt production factory has been established in Aibank city of Samangan province. A local businessman from Samangan,
The United States Agency for International Development (USAID) and representatives of provincial government offices honored 30 women farmers from Balkh
President Hamid Karzai inaugurated the much-awaited 3G mobile technology project and GSM (Global System for Mobiles) services in Kabul. The