From small and steady to big plans: Afghan businesswoman enjoys modest success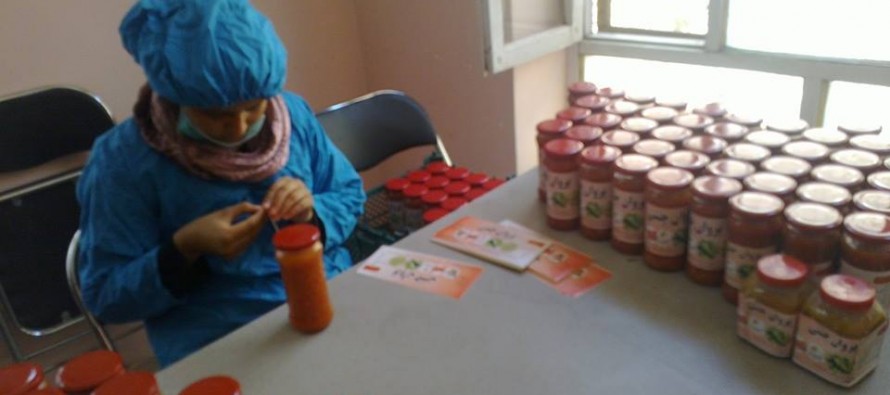 USAID-IDEA-NEW: Nazifa Hofiani's fruit and vegetable processing business has gone from small but steady sales to big expansion plans, thanks to a timely investment in management, planning and marketing skills.
When Ms. Hofiani started the Women's Vocational Training and Agriculture Service Organization in the eastern Afghan province of Parwan in 2006, its fruit juices, pickled vegetables, spices, jams and chutneys enjoyed modest success. But she always thought it could do better and in mid-2013, jumped at the chance to work with USAID's Incentives Driving Economic Alternatives for the North, East and West (IDEA-NEW) program.
IDEA-NEW helps Afghan agribusiness improve market access and processing capacity and Ms. Hofiani's team learnt about finance and accounting, developing a business plan, food safety and marketing.
The training enabled the company to break into new markets in Kapisa, Kabul and Panjshir provinces. By year-end, revenue had risen more than 30% and staff numbers nearly doubled. Ms. Hofiani plans to expand to supermarkets in Mazar-e-Sharif, Jalalabad and Herat.
It is a measure of the company's success that it is now able to pay for the printing of its product labels, for the first time ever.
---
---
Related Articles
Pajhwok Afghan News Weekly Price Report-Gold prices increased, while the value of the local currency declined against the US dollar
Businessmen in southern Kandahar province are hoping to export 40,000 tons of grapes worth millions of dollars this year, as
Adequate rainfall, absence of plant disease and distribution of improved seeds have boosted wheat yield in northwestern Badghis province. With