Germany and Afghanistan commit to strong partnership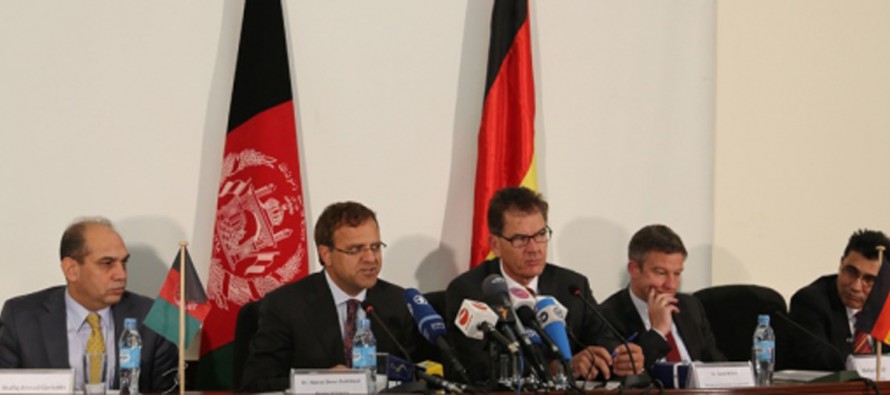 Dr Gerd Müller, Germany's Federal Minister for Economic Cooperation and Development, arrived on Tuesday in Kabul as the first German Minister to visit Afghanistan's President Dr Ashraf Ghani, CEO Dr Abdullah Abdullah and members of the country's new Government of Unity.
In talks with President Ghani and CEO Abdullah, Mr. Müller praised the new Afghan leadership for its strong political commitment and expressed support for their joint effort. During his visit, he also reaffirmed that Germany would adhere to the commitments made in Tokyo. Mr. Müller also met Dr Omar Zakhilwal, National Economic Adviser and Acting Minister of Finance, for government negotiations that amounted up to EUR 245 million (around AFN 18 billion) while the total annual funding for sustainable development is EUR 430 million (around AFN 31 billion).
Together with members of the Afghan government and representatives of German Cooperation with Afghanistan, Mr. Müller also visited key projects that were able to launch with German funding and are now managed in partnership between the two countries.
As the third largest donor to Afghanistan and its people, Germany has a genuine interest in ensuring the sustainable economic and social growth of the country. Afghan-German cooperation has played an important role in contributing to the stabilization and peaceful development of the country. As Mr. Müller outlined, the German government will stay a strong, reliable partner to Afghanistan to help achieve its aims of becoming a peaceful country, able to stand on its feet economically.
The commitment by the German government therefore aims to support Afghanistan in its effort to provide for its citizens, with more employment opportunities, improved basic education and vocational training, better access to justice, the public services the population requires, safe drinking water and energy in cities, districts and remote, rural areas. In Kabul and the north-eastern provinces of Balkh, Badakhshan, Baghlan, Kunduz, Takhar and Samangan, Afghan-German cooperation runs programmes together with Afghan partners in the five focus areas of good governance (rule of law, political participation and public administration), promotion of sustainable economic development and employment, energy supply, drinking water and wastewater disposal and education and vocational training. Also, Germany has a strong commitment in strengthening the voice of civil society to enable democratic development. This is why the expansion of cooperation between German and Afghan civil society is a key mission. With the continued support, these measures will continue post 2014.
---
---
Related Articles
Seems like Iran is not threatened by the sanctions that have crippled its oil industry, as the country is looking
Farmers who shunned poppies and planted other cash crops were given subsidised electric generators in Nad Ali district of southern
The government on Tuesday gave borrowers two months time to return loans to the troubled Kabul Bank, the president's office