Germany completes 29 projects in Baghlan province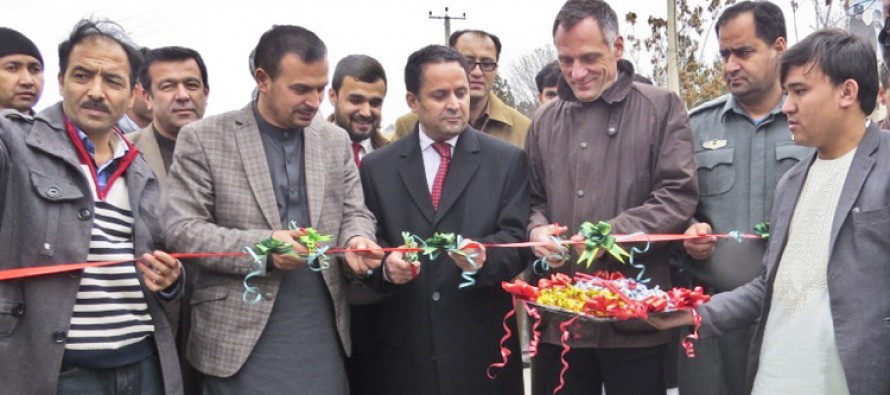 Germany handed over 29 newly completed projects to the local government in Baghlan province that it built as part of its Stabilization Program for Northern Afghanistan (SPNA).
The project was completed at a total reported cost of AFN 410.5 million ($714,909).
At the inauguration ceremony, the country's Consul General to northern Afghanistan, Dr. Zimmerman handed over seven irrigation canals, one road and 21 schools. The projects are located in the Doshi, Khinjan, Deh Salah, Puli-e-Hesar, Banu and Dan-e-Ghoori districts and in Pul-e-Khumri city.
Speaking at the opening ceremony,  Dr. Zimmermann said: "Germany intends to make a meaningful and sustainable contribution to the development of Afghanistan for the sake of a better future for the Afghan population" He emphasized that Germany and Afghanistan have had a friendship that has lasted for a hundred years and that "Germany is looking forward to the next 100 years of friendship." The Consul General added: "The Afghan government can contribute substantially to the sustainability of these projects by adopting them and taking good care of their future maintenance."
In total, 4,077 households will benefit from the new irrigation canals.  As many as 9,747 boys and 4,402 girls will benefit from the new school buildings, which were constructed according to high standards followed by the Ministry of Education. The new road is located in Pul-e-Khumri and offers a secondary thoroughfare connecting around 10,000 people with the central market.
All the 29 projects were welcomed and accepted by the local Afghan officials who were also active stakeholders during the construction process.Afghan construction companies were responsible for all of the construction measures between November 2013 and January 2015.
Since 2010, the German government has funded more than 245 small- and medium-size infrastructure projects in 45 districts with over AFN 6.3 billion (€87 million) through the program, with 50 new infrastructure projects in Baghlan alone. The aim is to make education, healthcare and markets more accessible to the citizens and improve irrigation through high-impact projects. The Stabilization Program for Northern Afghanistan (SPNA) is funded by the German Federal Foreign Office through KfW Development Bank and implemented by the Aga Khan Development Network, in partnership with Mercy Corps and ACTED.
---
Related Articles
The Japanese government is providing over USD 1mn to clear landmines in Panjshir and Parwan provinces of Afghanistan. An agreement
The result of a study conducted by the Afghanistan Research and Evaluation Unit (AREU) with the financial support of the
With a cost of more than 36,980,000 AFN, 40 projects of the National Solidarity Program of the Ministry of Rural