Germany funds construction of new clinic and governor's office in Kunduz province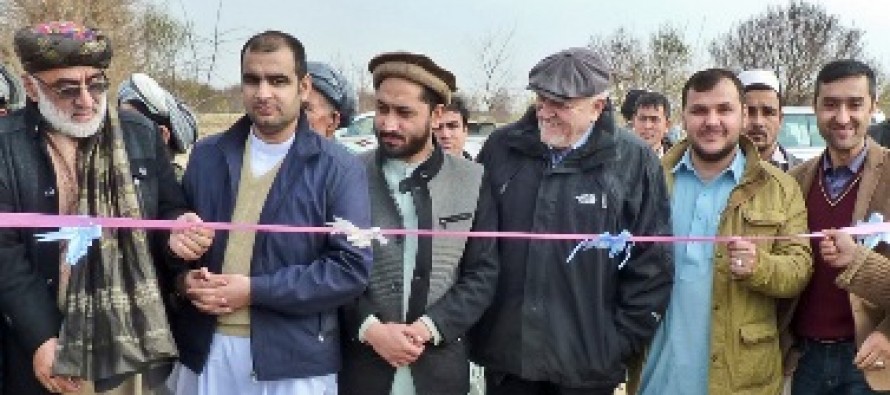 Construction work on two new buildings for District Governor's Office (DGO) and a new Basic Health Centre (BHC) officially began in the Qal-e-Zal district of Kunduz.
The projects will cost a total of almost AFN 50 million, funded by the German government.
The new Qal-e-Zal DGO will have 24 rooms for office administration, offices for sub-departments and conference rooms for community meetings. The building will be open for business at the end of June 2015. Local government staff in the town of Qal-e-Zal currently work from a small former school building. The lack of suitable premises makes it difficult to provide public services to the population. Construction of a district administration building was therefore part of the provincial and district development plans (PDP and DDP) approved by the Provincial Development Committee.
Mr. Habibullah Muhtashim, District Governor, and Mr. Manfred Meyer, Commissioner of Germany's Federal Ministry for Economic Cooperation and Development (BMZ), attended the groundbreaking ceremony together with more than 70 representatives from the Provincial Development Committee, District Development Assembly, elders, religious leaders and citizens of Qal-e-Zal district.
The new BHC in Durman will have six rooms for examining and treating patients, stations for child delivery and vaccinations and a pharmacy. The clinic will be ready to treat patients late June 2015. The new facility will make it easier for over 1,800 families to get access to improved medical services. The BHC currently has to operate from a private rented house with only two small rooms and no waiting area and no space for delivery patients. The centre's location is also difficult for families to reach in winter.
At the groundbreaking ceremony on 3rd December, Haji Mustafa Qul, a local elder, said: "This is a great moment for the inhabitants of Durman. Construction of a new health center is like a dream come true." The ceremony was hosted by Dr. Saad Mukhtar, Director of Public Health, and Hafizullah Safi, representative of the District Governor Office (DGO), who were joined by Manfred Meyer, BMZ commissioner, and more than 80 representatives from the District Development Assembly, elders, religious leaders and citizens from Durman village.
The projects were initiated by the Qal-e-Zal District Governor's Office and the Department of Public Health (DoPH) in Kunduz and approved by the Provincial Development Committee (PDC). Both projects are supported by the Regional Capacity Development Fund (RCDF) and implemented by the GIZ Construction Unit (GIZ CU), with a combined AFN 50,000,000 in financing from Germany's BMZ.
As part of the Afghan-German Cooperation programme, the RCDF is implemented by Deutsche Gesellschaft für Internationale Zusammenarbeit (GIZ) GmbH. The RCDF provides support for its Afghan partners' development priorities both at provincial and district level in six of Afghanistan's Northern provinces. At the same time, the RCDF provides training and coaching programmes for civil servants. With its broad range of activities, the RCDF aims to increase Afghan ownership of the development process, to strengthen Afghan state institutions at the sub-national levels and to promote transparency and inclusiveness.
---
---
Related Articles
Agriculture officials in Badakhshan have reported a 50% reduction in walnut production in the province due to climate change. "Walnut
Delegations from Afghanistan and Pakistan met in Dushanbe, Tajikistan capital city, on Thursday to reach conclusive decisions on the trilateral
Over 4000 families in various communities have benefited from development projects which were recently completed in Dar-e-pech, Nurgal, Sarkani and