Germany funds construction of new school building in Badakhshan for 1,700 female students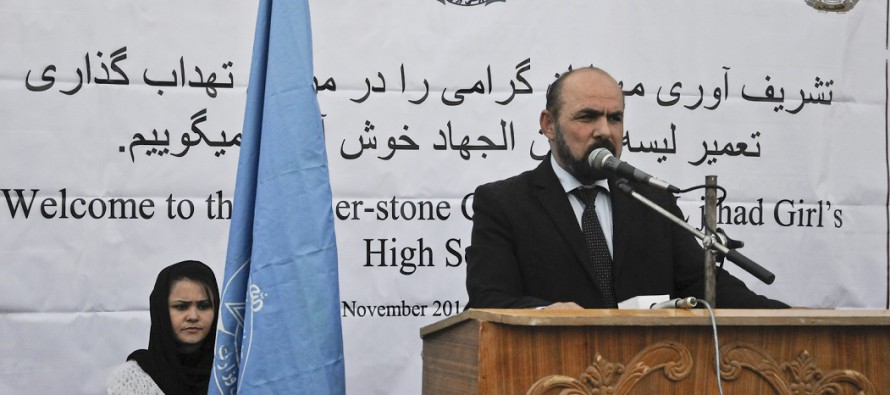 The Department of Education and the Badakhshan Provincial Governor's Office celebrated on Tuesday the official start of construction on a new school building for up to 1,700 female students in Faizabad, the provincial capital. The project is implemented by the Department of Education (DoE) at a cost of over AFN 32 million with funding from the Federal Republic of Germany. The new school building offers a safe learning environment for up to 1,800 female students and teachers from 30 villages in Faizabad.
Speaking at the groundbreaking ceremony, Mr. Sayed Shamsullah Shams, Director of the Education Department, said, "One of the major challenges for Al Jihad girl's high school was the lack of buildings for the female students, the girls had to study under trees or old tents both in extreme cold and warm weather. Today's ceremony marks a significant step towards greater opportunities for women and community improvement in the education sector." Dr. Shah Wali Allah Adib, Acting Governor of Badakhshan, added, "Construction of the new building is a great measure for helping women and female students in our community. This project will address the major challenges female students face in Faizabad attending school and help them continue their education and play their roles and responsibilities as effective members of their communities."
Dr. Shah Wali Allah Adib Acting Governor, Mr. Sayed Shamsullah Shams Head of Education Department and Mr. Abdulah Naji Nazari Head of Provincial Council were joined by over 200 representatives from Badakhshan's line departments, the Provincial Council, female students, community development councils, district development council, women activists, community leaders, elders and religious leaders as well as Afghan-German Cooperation representatives.
The new 24-classroom school building will be helpful for young female students from 30 villages in the sixth district of Faizabad interested in learning at the school. Until now, the Department of Education was only able provide school buildings for male students. With the completion of the new building, the department of Education will be in a better position to offer education facilities for girls and young women and address the concerns of female students and 7000 people living in Dusht-e-Shohada. The new building will be three stories high, with 24 classrooms, a boundary wall, a deep well, solar panels, desks and chairs and will mark an important step toward a higher quality of education and will replace the temporary constructions currently used for classes.
In 2011 the DoE's proposal to build the new school building for females was prioritized by the Badakhshan Provincial Development Committee (PDC). The Regional Capacity Development Fund (RCDF), financed by the German Federal Ministry for Economic Cooperation and Development (BMZ), provided technical support.
As part of Germany's cooperation with Afghanistan, the RCDF is implemented by Deutsche Gesellschaft für Internationale Zusammenarbeit (GIZ) GmbH. In six Northern provinces, the RCDF supports the development priorities of its Afghan partners in the provinces and districts, while at the same time providing training and coaching programmes for civil servants. With its broad range of activities, the RCDF aims to increase Afghan ownership of the development process, strengthen Afghan state institutions in provinces, districts and villages, and promote transparency and inclusiveness.
---
---
Related Articles
According to a statement from the presidential palace, Minister of Economy Abdul Hadi Arghandiwal was appointed as secretary to the
On Thursday June 2nd, The Founder Institute will host a networking event where aspiring entrepreneurs can mingle with seasoned business
Afghan woman, Maria Bashir, received the 'Jewels of Muslim Worlds Award' during the sixth Muslim World Biz 2015 in Malaysia