Germany funds construction of two administrative buildings in Badakhshan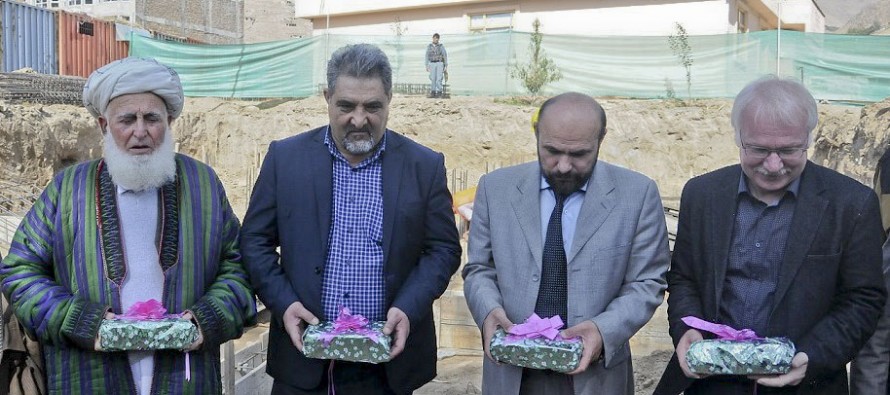 The Department of Urban Development (DoUD) and the National Environmental Protection Agency (NEPA) in Badakhshan province officially started construction of two new administrative buildings in the provincial capital, Faizabad.
With a total of AFN 49 million in funding and with technical support from the German Government, the two buildings will improve working conditions for the departments and help make them more visible and accessible to the population.
Hosting the groundbreaking ceremony for the two construction projects, Dr. Shah Wali Allah Adib, Governor of Badakhshan Governor, said, "These important projects will enable local government to address the needs of the citizens in terms of environmental protection and city planning." He added, "Protecting the environment and putting urban regulation into practice are not only the responsibility of local government. Everybody must make an effort to come together and create a better society for future generations."
Dr. Shah Wali Allah Adib was joined by Mr. Ghulam Nabi Sarfaraz, Head of the National Environmental Protection Agency, Mr. Mohammad Taheer Yaqoobi, Head of Urban Development in Badakhshan and more than 200 representatives from the Provincial Development Committee. The ceremony was also attended by Dr. Frank Pohl, BMZ Development Commissioner, representing Afghan-German Cooperation, as well as line department, provincial council and civil society members together with community leaders, elders and religious leaders.
The DoUD plans and manages urban development policies, provides support for infrastructure projects in the municipalities, prepares urban development master plans and monitors construction of buildings as part of a greater planning framework. The new administrative building will afford civil servants a clean and safe working environment where they can help municipalities in Faizabad and other districts to plan and build water and canalization systems, better infrastructure for business, such as industrial zones, and other private housing projects based on municipal master plans.
The NEPA mandate is to assist in environmental protection issues, including conservation of biodiversity and wildlife and prevention of deforestation. The agency works both on the provincial and district level to increase environmental awareness among citizens. The new administrative building will improve working conditions for NEPA to put national environmental policies into action, in close cooperation with national and international organisations throughout the province.
Both projects were drawn up and proposed by the line departments and Provincial Governor's Office in Badakhshan, the final decision was made by the Badakhshan Development Committee (PDC). The construction project received both financial and technical aid from the Regional Capacity Development Fund (RCDF), which is funded by the German Federal Ministry for Economic Cooperation and Development (BMZ).
As part of the Afghan-German Cooperation program, the RCDF is implemented by Deutsche Gesellschaft für Internationale Zusammenarbeit (GIZ) GmbH. The RCDF provides support for its Afghan partners' development priorities both on a provincial and a district level in six of Afghanistan's Northern provinces. At the same time, the RCDF provides training and coaching programs for civil servants. With its broad range of activities, the RCDF aims to increase Afghan ownership of the development process, strengthen Afghan state institutions on the sub-national level and promote transparency and inclusiveness.
---
---
Related Articles
USAID Press Release-The Kabul Municipality inaugurated today the first Citizen Information Center (CIC) in Afghanistan.  The CIC is located within
Afghanistan's finest fruits, nuts, and saffron went on display this week for buyers around the world at the world's largest
Agriculture officials in Badakhshan have reported a 50% reduction in walnut production in the province due to climate change. "Walnut