Germany funds first AutoCAD software training for 51 civil engineers in Kunduz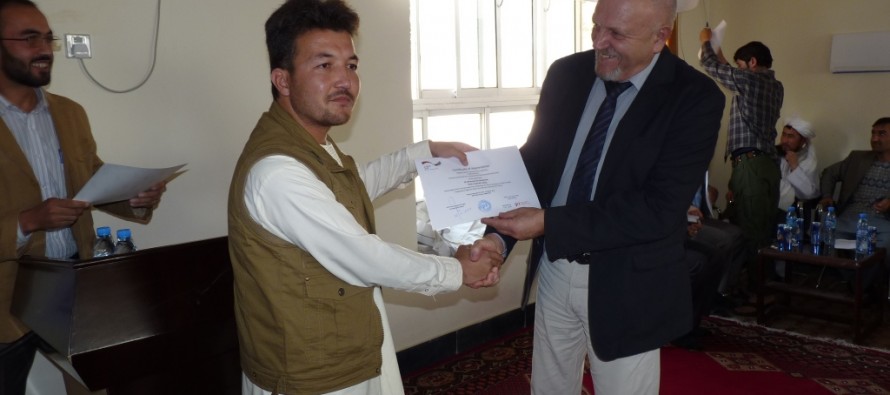 51 civil engineers from 10 line departments in Kunduz successfully completed training in use of AutoCAD software, the first course of its kind in the province. The engineers, who all work for local government institutions in Kunduz, learnt how to use the application and make their infrastructure planning and design more effective and efficient. The software for 2D and 3D computer-aided design and drafting is widely used by engineers, architects and other technical professionals in a range of industries. To meet the demands of a greater quantity and quality of infrastructure projects in Kunduz, engineers in various departments needed to improve their skills required for planning, tendering and managing civil infrastructure construction projects.
The course taught the participants all the necessary tools they need to create and edit technical drawings. They were able to use the software on projects currently in progress in their institutions. The goal of the training was therefore to help the civil engineers apply AutoCAD software by themselves and efficiently to plan and design 2D and 3D drawings and scale models of infrastructure projects, for example roads, schools, hospitals, etc. The training also covered advanced tools and options, including workspaces and user interfaces, drawing, editing and viewing tools, and plot layouts.
The initial proposal for the technical training came from the Punj-Amu River Basin Agency (PARBA) for their engineers. Following a needs assessment in ten of the province's line departments, the course was then expanded to include participants from other local government institutions. The training project received funding and technical support from the German Federal Ministry for Economic Cooperation and Development (BMZ) through the "Regional Capacity Development Fund" (RCDF) in Kunduz. While the RCDF was responsible for the training, the majority of civil engineers work for projects supported by the RCDF sister programme, the Regional Infrastructure Development Fund, or RIDF, which is financed by Germany's KfW Development Bank.
As part of Afghan-German Cooperation, the RCDF is implemented by Deutsche Gesellschaft für Internationale Zusammenarbeit (GIZ) GmbH. In six Northern provinces of Afghanistan, the RCDF supports the development priorities of the Afghan partners at the provincial and district level, while providing training and coaching programmes for civil servants. RCDF aims to increase Afghan ownership of the development process, strengthen Afghan state institutions on the subnational level and promote transparency and inclusiveness. Financed by the KfW Development Bank, the RIDF enables provincial authorities in Badakhshan, Baghlan, Balkh, Kunduz and Takhar to respond to the development needs of their provinces and districts self-sufficiently and execute infrastructure projects without external assistance. This not only enhances quality of life for the regional population, but also strengthens confidence in government structures.
---
---
Related Articles
The World Bank welcomes recommendations in the latest report by the Special Inspector General for Afghanistan Reconstruction (SIGAR) on the
Construction of a 7Km and a 6Km embankment of Taloqan River commenced on Monday, informed local officials of Takhar province.
Afghan traders sent two tons of pomegranates to the UAE from Kandahar airport, a statement from the Presidential Economic Advisory