New IARCSC offices built in Baghlan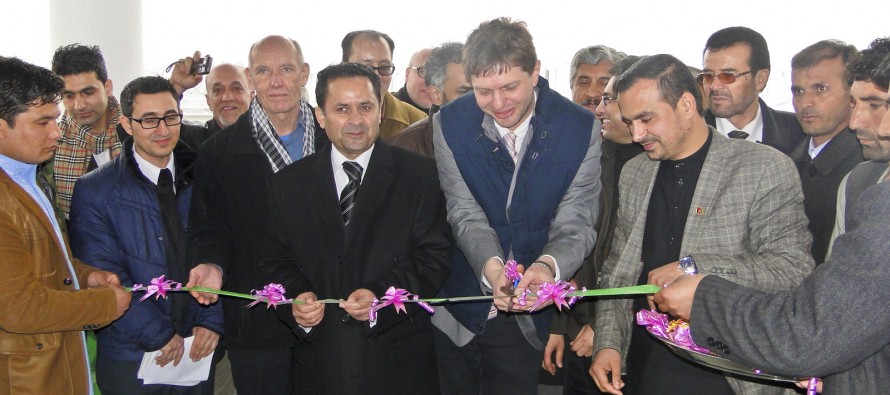 The Independent Administrative Reform and Civil Services Commission (IARCSC) in Baghlan is responsible for realizing reforms and providing civil services for the public, as well as offering a wide range of training measures to the civil servants in different government sectors in the province. In order to continue working toward those goals and intensify the implementation process, the Baghlan IARCSC department celebrated the construction of a new office building.
The three-story building, constructed at a cost over AFN 27,500,000 (USD 476,520), and funded by the German government, is the first of its kind built in the northern provinces.
The building compromises of training rooms, administrative offices, kitchens, guard rooms, and a conference hall, all equipped with electricity and water systems as well as a surrounding wall.
Speaking at the inauguration ceremony, Ezatullah Tawhidi, Director of the IARCSC in Baghlan said: "In the past, we were not able to function properly. The new building is constructed with high standards and allows us to train and provide services for all public departments in Baghlan." He also highlighted the new IARCSC had for developing its measures throughout the province, adding: "Our new offices set us in a position that we can easily expand our services."
In 2013, the IARCSC's proposal to build the new offices was prioritized by the Baghlan Provincial Development Committee (PDC). The Regional Capacity Development project (RCD), financed by the German Federal Ministry for Economic Cooperation and Development (BMZ), provided both financial and technical support during construction.
---
---
Related Articles
Uzbek officials say work has begun on a railway project that will connect Uzbekistan to Pakistan via Afghanistan. The Uzbek
Afghanistan High Office of Oversight and Anti-Corruption (HOOAC) criticized the decision of the Afghan government on the collection of municipality
According to the Ministry of Agriculture, Irrigation and Livestock officials, the World Bank will fund horticulture development projects at a