Germany funds new women's dormitory at Badakhshan University for 260 female students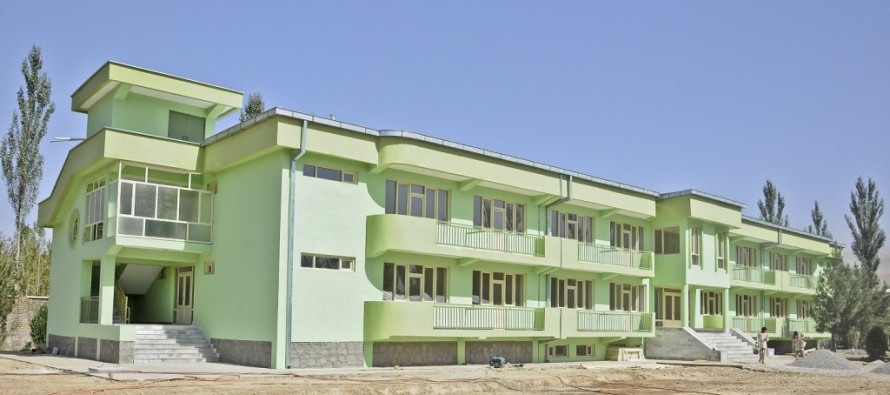 Badakhshan University celebrated the official opening of a new women's dormitory in Faizabad, the provincial capital.
Built by the Department of Higher Education (DoHE) at a cost of over AFN 53 million with funding from the German Government, the new dormitory can accommodate up to 260 women from various parts of the country. The goal of the new housing is to help increase the number of female students enrolled at the university.
Speaking at the inauguration ceremony, Dr. Sher Baz Zadran Senior Advisor for the Minister of Higher Education, said, "Today's opening marks a big step toward greater equal opportunities for women in education. Families can now allow their daughters to leave the family home and attend Badakhshan University in a safe environment." Dr. Shah Wali Allah Adib, Governor of Badakhshan, added, "This housing project addresses one of the major challenges women students face in getting a university education. The dormitory provides affordable, safe and suitable accommodation, so more women can take classes here."
Dr. Sher Baz Zadran, Dr. Shah Wali Allah Adib and Mrs. Gulalai Akbari Badakhshan, Afghan Senator were joined by over 300 representatives from Badakhshan's line departments, the Provincial Council, university students, women activists, community leaders, elders and religious leaders as well as Afghan-German Cooperation representatives, including Germany's BMZ Development Commissioner for Badakhshan, Dr. Frank Pohl.
The dormitory is especially helpful for for young female students from remote districts who wish to attend university but cannot, either because the distance is too far to travel to Faizabad regularly from their villages or because they cannot afford safe housing in the city. Until now, the university was only able to provide accommodation for men in dormitories. With the women's dormitory building, the university can help reduce financial and security-related constraints and encourage more women to enroll in higher education courses.
The women's housing is a three-storied building with one meeting hall, 32 bedrooms and six sanitary rooms and cellar rooms. A deep well, solar panels and garden facilities were constructed to provide a sustainable energy supply. As a custodian for gender issues and security in Badakhshan, the Department of Woman Affairs also consulted on proper construction. Badakhshan University has eight faculties: Medicine, Law, Economy, Agriculture, Literature, Social sciences, Education and Islamic studies. Currently, around 4,500 students from Badakhshan and other parts of Afghanistan are enrolled in the faculties. Of them 1700 are female students.
In 2011 the DoHE's proposal to build the dormitory was prioritized by the Badakhshan Provincial Development Committee (PDC). The Regional Capacity Development Fund (RCDF), financed by the German Federal Ministry for Economic Cooperation and Development (BMZ), provided both financial and technical support during construction.
As part of Germany's cooperation with Afghanistan, the RCDF is implemented by Deutsche Gesellschaft für Internationale Zusammenarbeit (GIZ) GmbH. In six northern provinces, the RCDF supports the development priorities of its Afghan partners in the provinces and districts, while at the same time providing training and coaching programmes for civil servants. With its broad range of activities, the RCDF aims to increase Afghan ownership of the development process, strengthen Afghan state institutions in provinces, districts and villages, and promote transparency and inclusiveness.
---
---
Related Articles
Danish government has pledged to stand by the Afghan government post-2014 and assist the country with developing its economy. According
Hanan Shah Agha proudly calls himself a full-time motorbike mechanic. It is a marked step up from being unemployed and
According to the Ministry of Agriculture, Irrigation and Livestock officials, the World Bank will fund horticulture development projects at a