Germany funds training for Afghan civil servants in Samangan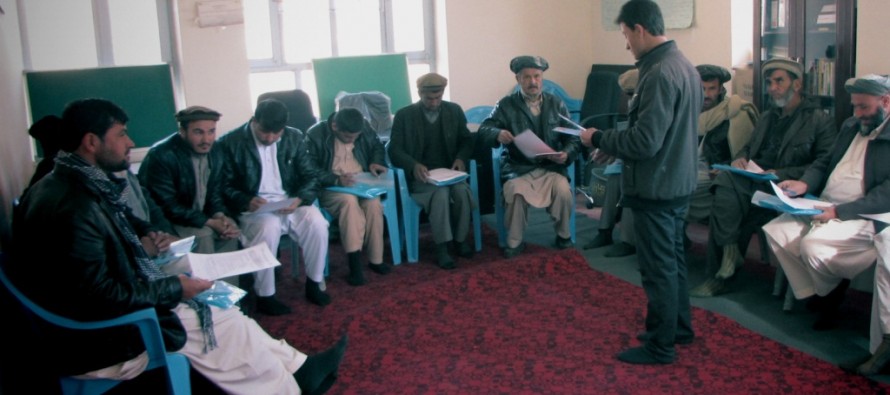 Twenty civil servants from the district of Khoram Va Sarbagh in the province of Samangan in northern Afghanistan started eight months of training in English and computer skills on Saturday.
The course syllabus covers proper use of hardware and software for administrative purposes and English language skills for better communications with international organisations.
With the new skills, the civil servants are expected to improve the efficiency of their tasks in their daily business, both for citizens and within their respective authorities. Besides the training, equipment was also provided for the computer class. Staff received new laptop computers to handle their tasks more efficiently in future, and solar panels and further IT equipment were also installed.
The costs of almost AFN 1.35 million for the course and computing hardware and software were covered by the German Government in cooperation with the Samangan Provincial Development Committee (PDC) which proposed the original project. Technical consulting and assistance was provided by the Regional Capacity Development Fund (RCDF), which is financed by the German Federal Ministry for Economic Cooperation and Development (BMZ).
The course is part of a greater capacity development programme for civil servants in Samangan and other northern provinces in Afghanistan. In October and November of this year, twenty district governors and line department heads and directors successfully completed two rounds of six days of leadership training in the province capital, Aybak.
The provincial and district government officials learnt how to manage a wide variety of tasks, including planning, organizing, monitoring and evaluation, controlling, leading and managing department staff, managing services provided by their departments, management of projects implemented by their departments and providing the services their communities need.
As a result of the courses, the participants now have a sound understanding of leadership and staff management. They were able to improve their communication and feedback systems within the departments through effective team building techniques and conflict management. They also learnt how to conduct staff performance evaluations and conversation, coach staff and developing operational plans to help them speed up and submit proper project applications.
As part of Germany's cooperation with Afghanistan, the RCDF, which is financed by the German Federal Ministry for Economic Cooperation and Development (BMZ), is implemented by Deutsche Gesellschaft für Internationale Zusammenarbeit (GIZ) GmbH. In six provinces of Northern Afghanistan, RCDF supports the development priorities of its Afghan partners at the provincial and district level, while at the same time providing training and coaching programmes for civil servants. With its broad range of activities, the RCDF aims at increasing Afghan ownership of the development process, strengthening Afghan state institutions and promoting transparency and inclusiveness.
---
---
Related Articles
The United States announced more than $61 million in additional humanitarian assistance to meet the needs of vulnerable communities, displaced
Leading the list of the world's most corrupt countries, Afghanistan is continuously facing challenges from its endemic corruption. According to
The first Business Legal Service Center, called Qaed Legal Services, was inaugurated on Thursday in Herat city in presence of