Germany hands over mobile classrooms to the University of Baghlan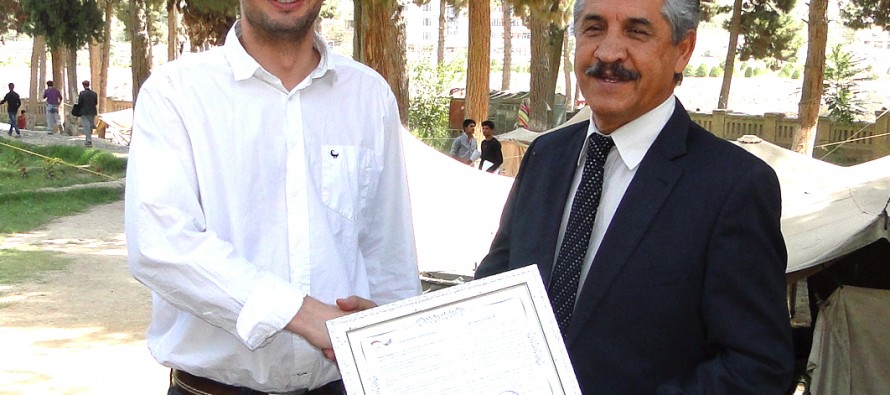 Nine new mobile classrooms were today handed over to the University of Baghlan in Pul-e Khumri in the district of Pul-e-Khumri in northern Afghanistan. These mobile classrooms are large-scale tents designed specifically for academic activities and will provide opportunities for an extra 900 students to attend classes at the university.
Nine new mobile classroom tents were handed over to the Department of Higher Education in the province of Baghlan by the German Government today. The tent facilities will be used by the University of Baghlan. The handover ceremony was attended by Amanuddin Ziai, chancellor of Baghlan University and director of DoHE Baghlan, deputy chancellor Daud Mohtajyar, RCDF Baghlan team leader Marcus Zwenke and RCDF Baghlan program manager Dr. Shoaib Shefa, representatives of the Provincial Government of Baghlan as well as Afghan-German Cooperation representatives.
The mobile classrooms will allow an additional 900 university students to attend their courses in higher education at the University of Baghlan. With the nine tents, the students will be able to study in three shifts at the university. The mobile classrooms will therefore help the Higher Education Department increase study opportunities for students.
The Provincial Development Committee (PDC) in Baghlan made the decision to launch and prioritize the equipment project. Technical support comes from the Regional Capacity Development Fund (RCDF) in Baghlan, with financing from the German Federal Ministry for Economic Cooperation and Development (BMZ).
As part of the Afghan-German Cooperation programme, the RCDF is implemented by Deutsche Gesellschaft für Internationale Zusammenarbeit (GIZ) GmbH. The RCDF provides supports for its Afghan partners' development priorities both on a provincial and a district level in six of Afghanistan's Northern provinces. At the same time, the RCDF provides training and coaching programmes for civil servants. With its broad range of activities, the RCDF aims to increase Afghan ownership of the development process, strengthen Afghan state institutions on the sub-national level and promote transparency and inclusiveness.
---
---
Related Articles
President Hamid Karzai has set up a High Economic Council, led by the president himself, to boost the country's economy.
Over 65 government officials from 10 Afghan provinces attended a two-day multi-stakeholder Sustainable Development Goals (SDGs) on Agriculture and Natural
Farmers in Kunduz are expecting their wheat yield to enhance by 20% owed to the province's suitable weather conditions and