Germany hands over two Badakhshan hydro power schemes to Afghan partners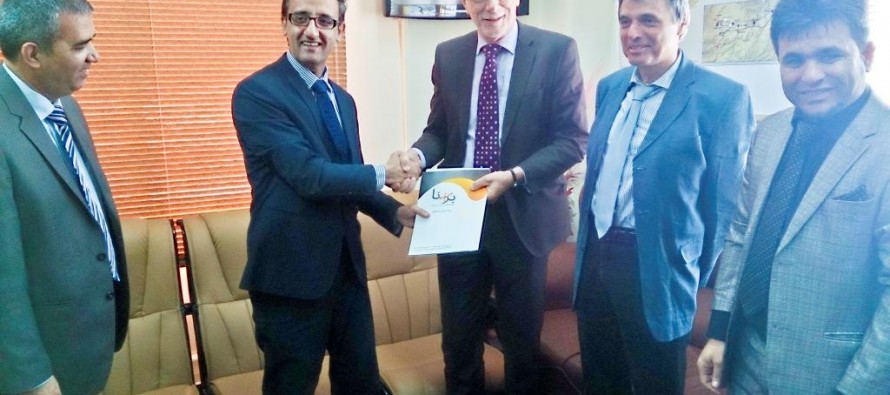 The German Government officially handed over two small hydro power schemes in Badakhshan province to Afghanistan's Ministry of Energy and Water on Tuesday. The power schemes will be operated and maintained by Afghanistan's national power company, Da Afghanistan Breshna Sherkat (DABS).
At the signing ceremony, Eng Shekeeb Ahmad Nessar, Chief Operation Officer of DABS, thanked the German Government and the German Federal Ministry for Economic Cooperation and Development (BMZ) in particular for the support it has provided Af-ghanistan in the energy sector throughout the years. The handover and operations of the power schemes benefit a total of 26,000 people in the Yaftal district of Badakhshan.
The two renewable power schemes were built in the towns of Nalan and Farghambowl in Yaftal district with the support of the Deutsche Gesellschaft für Internationale Zusammenarbeit (GIZ) GmbH on behalf of BMZ.
Financed by BMZ and managed the Afghan-German cooperation program in partnership with the Afghan Ministry of Energy and Water, the costs of the two pilot projects in Badakhshan amounted to USD 5 million. The mini hydro power schemes have a capacity of 280 kW and 125 kW and provide electricity for 2,900 public and private connections. The construction and grid extension project for these power plants was completed in late 2013, and the schemes are now ready for the formal handover to the Afghan Government. In an initial trial period, local operators assisted in operation and maintenance of the schemes.
The electrification project has already benefited shops and businesses, which can use electricity to increase productive capacity. Private households also benefit from no longer having to use firewood or oil for cooking or lighting. Besides supplying electricity for the rural population, the power scheme projects also help the Ministry of Energy and Water collect data on requirements for constructing and operating renewable energy power schemes in Afghanistan, with an expert team from the ministry analyzing operational costs. This handover from the German to the Afghan Government was the second of its kind this year.
As part of Germany's cooperation with Afghanistan, the Deutsche Gesellschaft für Internationale Zusammenarbeit (GIZ) GmbH has been helping the Ministry of Energy and Water promote renewable energy in Afghanistan since 2003. Financed by the German Ministry for Economic Cooperation and Development (BMZ), GIZ provides policy advisory services and technical support for the ministry's institute.
---
---
Related Articles
The Special Inspector General for Afghanistan Reconstruction (SIGAR), John Sopko, said Afghanistan will continue to receive up to USD 10bn
India has committed to provide annual financial assistance of US$ 1 million over a period of five years beginning 2015-16
The Ministry of Finance has been ordered to arrange USD 60mn for repairs of heavy weaponry and armored vehicles, according