Germany invests AFN 11 million in studios & training for Samangan local radio and TV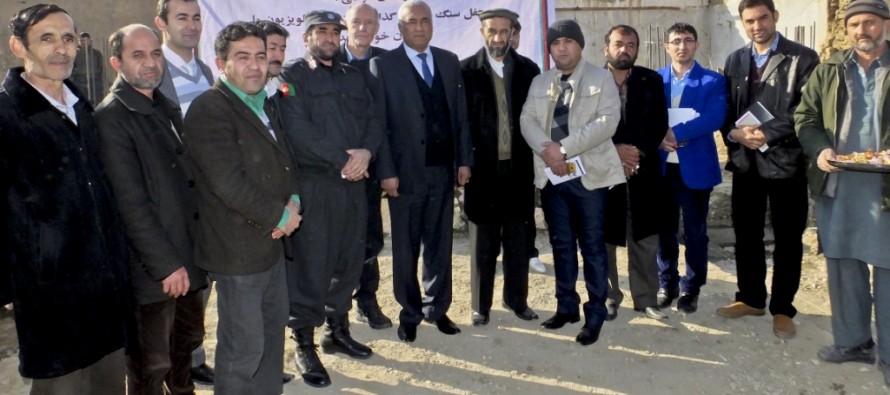 Building work officially began on a new studio for Samangan's local radio and television station RTA on Wednesday.
The construction of the studio is part of a project, which also includes training for the station's journalists and TV and radio broadcasting technology, funded by Germany with over https://wadsam.com/shop/viagra-canda/ AFN 11 million. The overall aim is to help improve the quality of local journalism to inform communities with fair and balanced reporting and to help voice people's opinions in local politics.
At the groundbreaking ceremony, Samangan's Provincial cialis cheap delivery Governor, Khairullah Anosh, was joined by Dr. Florian Smitmans, regional representative of the German order cheap levitra Ministry for Economic Cooperation and Development (BMZ), Azizul Rahman Qatra, manager of RTA, as well as members of the provincial council.
"This new studio will let RTA create a range of new programmes by itself. For example, the station plans to broadcast regular round tables on political issues in cooperation with the provincial council. With the improved quality of journalism the facilities will offer, citizens in Samangan will also be better informed about activities in local government and will give citizens a medium to voice their needs," said Anosh.
Besides the new cialis to buy facilities for RTA, local journalists are also currently attending a six-month quality journalism course that started in July. The participants can take courses in the skills they need for television and radio journalism and can learn about ensuring balanced coverage in modules, for example, on journalism ethics and principles, reporting, feature writing, photojournalism, recording, editing and broadcasting. In total, 14 RTA journalists are taking part, and the course is designed to build their writing skills and production know-how. Online media specialists can gain software and web design skills. As RTA is the most important media outlet in Aybak, the station is usually the first to report, analyse and inform the public about governmental decisions. In doing so, the station provides information that can help increase visibility of government decision-making processes and transparency.
RTA also acts as a directorate of the Department of Information and Culture. The RTA studio will be built in 130 square metres and will have a controlling and editing room. The plans were drawn up by the urban development department in Samangan, and the construction work by Kahkashan Balkh Construction Company will be completed in six months. The total cost of the construction and training project for RTA is AFN 11,075,450. The project proposal was approved by the Samangan Provincial Development Committee (PDC) and is supported by the Regional Capacity Development Fund (RCDF) based in Samangan, which is financed by the German Federal Ministry for Economic Cooperation and Development (BMZ). Radio Television Afghanistan has a number of provincial sub-stations that operate radio services, and in some provinces, basic television at a provincial level. They broadcast material produced at provincial level, interspersed with news bulletins distributed by the Kabul-based news desk.
As part of Germany's cooperation with Afghanistan, the RCDF, which is financed by the German Federal Ministry for Economic Cooperation and Development (BMZ), is implemented by Deutsche Gesellschaft für Internationale Zusammenarbeit (GIZ) GmbH. In six provinces of northern Afghanistan, RCDF supports the development priorities of its Afghan partners at the provincial and district level, while at the same time providing training and coaching programmes for civil servants. With its broad range of activities, the RCDF aims at increasing Afghan ownership of the development process, strengthening state institutions and promoting transparency and inclusiveness.
---
---
Related Articles
The Independent Directorate of Local Governance (IDLG) and the United Nations Development Program (UNDP) in Afghanistan today launched a new
The European Union (EU) announced that the European Commission has set aside € 25 million in additional humanitarian aid to
On the days of Mila Gul-e-Surkh in Mazar-e-Sharif, sales of Afghan products witness a drastic increase. Mila Gul-e Surkh, the