Germany is funding new Women Training Centre in Taloqan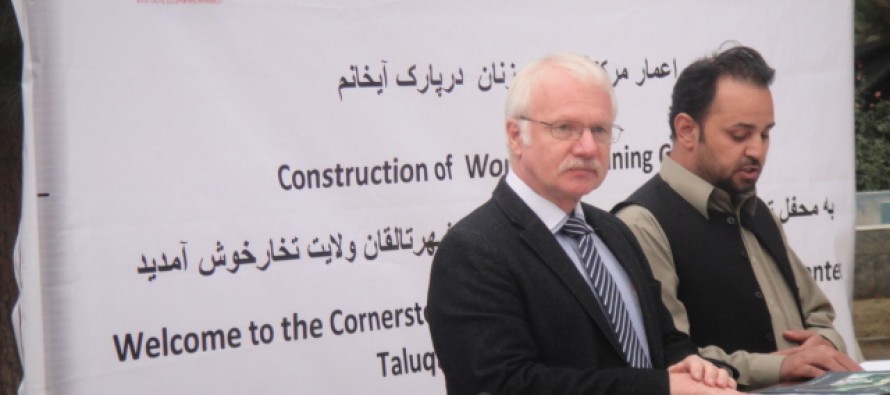 The Department of Women Affairs in Takhar province (DoWA) and the Office of the Provincial Governor celebrated the cornerstone ceremony for construction of a new women training centre on Sunday in Taloqan. The women training centre will put the DoWA and its stakeholders in a better position to promote gender equality, deal with women's affairs as a cross-cutting topic throughout various development issues in Takhar and provide women leaders with the capacity development measures they need.
The training centre will focus on such issues as legal awareness, violence against women, women's rights, English classes, computer and management skills and health care. The project will help strengthen the capacity of women in 17 districts of the province and help improve employment opportunities and thus the economic status of families. Construction of the training centre will be completed by June 2015. Every year, it will offer 1,850 women and 350 men training possibilities and a good learning environment.
Taking part in the opening ceremony, Mr. Abdul Latif Ibrahemi, the Governor of Takhar, and Ms. Razmara Hawash, Head of Women Affairs Department in Takhar, were joined by more than 100 representatives from Takhar line departments, women activists and entrepreneurs, community leaders, elders and religious leaders. Representing German Cooperation with Afghanistan, Dr Frank Pohl, BMZ Development Commissioner, also took part in the event. "The new centre is a visible sign of the priority the Takhar administration gives to the cause of women´s rights."  Frank Pohl said.
The women's training centre project was first drawn up in 2010 by DoWA. The proposal was prioritized and decision for construction of the building was made by the Provincial Development Committee (PDC) of Takhar. The Department started implementation with support from the Regional Capacity Development Fund (RCDF) and financing from the German Federal Ministry for Economic Cooperation and Development (BMZ). The women's training centre is part of a priority initiative for "capacity development for women and addressing their problems on provincial and district levels", which provides capacity development to employment for women and men in Takhar province.
As part of the Afghan-German Cooperation program, the RCDF is implemented by Deutsche Gesellschaft für Internationale Zusammenarbeit (GIZ) GmbH. The RCDF provides supports for its Afghan partners' development priorities both on a provincial and a district level in six of Afghanistan's Northern provinces.  At the same time, the RCDF provides training and coaching programs for civil servants. With its broad range of activities, the RCDF aims to increase Afghan ownership of the development process, strengthen Afghan state institutions on the sub-national level and promote transparency and inclusiveness.
---
---
Related Articles
Afghanistan Chamber of Commerce and Investment announced that Russia has lifted customs tariffs on Afghan exports. The chamber also said
Afghanistan is at the cusp of joining the WTO having completed most of the accession formalities. Afghanistan will be the
As the concerns over discoloring of Afghan carpets and receding condition of the carpet industry have increased, President Karzai has