Germany supports Afghanistan to train its police force in Mazar-e Sharif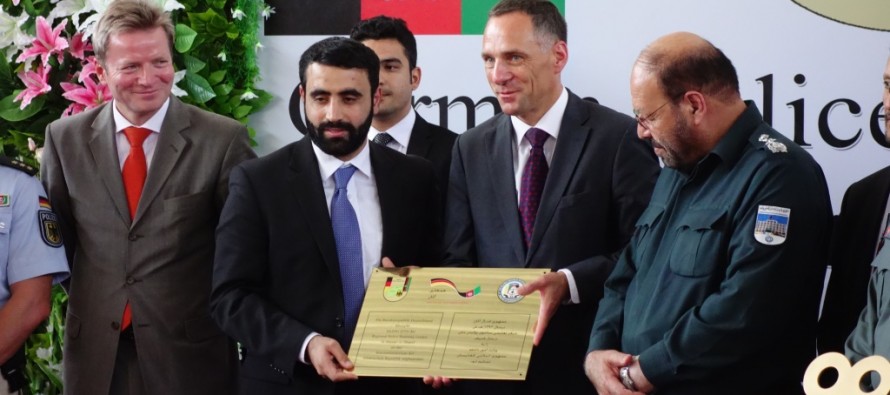 After providing financial and technical support for construction, maintenance and development of the Regional Police Training Center in Mazar-e Sharif, the German Government officially hands over ownership and responsibility for management of the facilities to Afghanistan's Ministry of the Interior. At a cost of approximately AFN 2.3 billion, the center includes tactical training grounds, dormitories, a shooting range, sports grounds and other training facilities with a capacity for stationing up to 1,400 police personnel.
The German Government handed over the responsibility for managing and running the Regional Police Training Centre (RPTC) in Mazar-e Sharif to the Afghan Government. The handover ceremony at the RPTC, attended by Mr. Masood Ahmad Azizi, Deputy Minister for Policy and Strategy at Ministry of Interior, Dr. Radib, Chairman of the Provincial Council Balkh, Mr. Abdul Rahman Rahimi, Provincial Commander Police, Mr. Alfons Aigner, Head of Mission GPPT, Dr. Cornelius Zimmermann, German Consul General in Mazar-e Sharif as well as Dr. Helmut Teichmann, Germany's Director of Federal Police, marks one of the final milestones of an Afghan-German Cooperation program for maintenance, development and training for Afghanistan's police force.
Implemented on behalf of the German Federal Foreign Office, the program has provided technical and financial support both for building the center and for equipping police recruits and cadets. It also offered customized training modules to help Afghanistan build the capacity to manage and maintain its own training facilities sustainably.
At a total cost of over AFN two billion for development, the centre can house more than 100 police personnel in male and female dormitories and can station up to 1,200 trainee police personnel and 200 instructors during training. With approximately 500,000 square metres of grounds, the four sections that make up the center's compound house approximately 100 buildings, with various functions. Construction of the center first started in 2008 as part of a cooperation agreement with the German Police Project Team (GPPT), with Afghan-German Cooperation taking over management of the building and maintenance for all further facilities.
With the handover of the facilities, the Afghan Ministry of the Interior has now adopted ownership and responsibility for managing and sustaining all installations and measures the facilities required; for example, heating, ventilation, plumbing, electricity, building and refurbishment, outdoor facilities, cleaning, teaching residents how to look after buildings and providing instructions for taking care of the property.
On behalf of the German Federal Foreign Office, the Deutsche Gesellschaft für Internationale Zusammenarbeit (GIZ) GmbH promotes construction of police facilities through its programme for police reform. Besides building police training centres in Mazar-e Sharif, Kabul, Kunduz, and Faizabad, the program has also helped build a station for the Border Police Department at Kabul Airport and a logistics center for the Ministry of the Interior in Kabul. As local construction firms are commissioned, the funds invested flow into the regional economy. In addition to the construction work, GIZ also trains police staff in how to maintain these buildings sustainably.
The German Police Project Team (GPPT) is responsible for coordinating and running police training courses together with the Afghan National Police.
---
---
Related Articles
National Solidarity Program of the Ministry of Rural Rehabilitation and Development recently completed 33 development projects in Arghandab, Boldak, Panjwayee,
The Afghan government has promised to preserve a historic Buddhist site at the Ainak copper project site. The grounds of
Afghan officials, including 2nd Vice President Mohammad Karim Khalili, Economy Minister Abdul Hadi Arghandiwal, deputy ministers and governors from all