Germany supports construction of urban drinking water supply system in Faizabad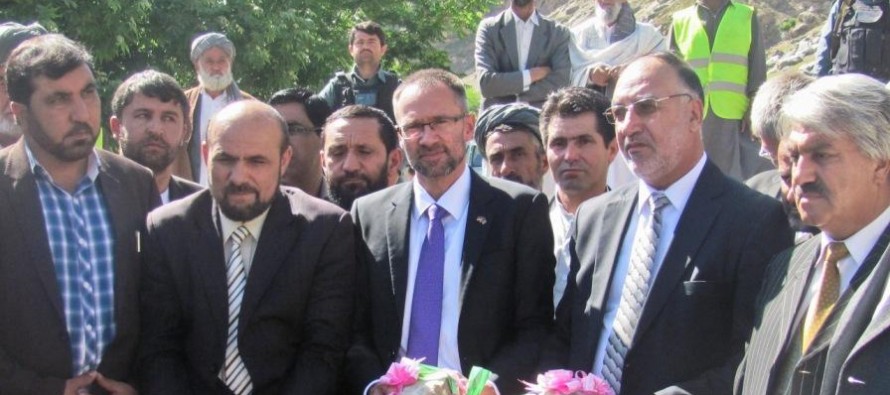 In partnership with the Ministry of Urban Development, the German Government has committed almost €8.15 million in financial support to help build a drinking water supply system for the city of Faizabad in Badakhshan. The first phase will include construction of three new reservoirs, main transmission pipes and well equipment.
Dr Martin Schuldes, the BMZ Development Commissioner for North Afghanistan, said Germany's commitment to Afghanistan would continue after 2014 and that the German Government encouraged the Government of the Islamic Republic of Afghanistan to work hard for a secure environment.
He stressed that the German Government expects the ongoing political reforms to continue and will be followed up with the necessary commitment by the Afghan Government to provide the people of Afghanistan with good governance and service delivery.
Nationwide, only around 20% of the Afghan population in towns and cities has access to clean drinking water. Most people in the city have to use their own wells to get water, use public pumps or buy water at expensive prices from privately-operated tanker trucks.
The first phase of work in Faizabad will be to build three new reservoirs, main transmission pipes and well equipment. The reservoirs and wells will be built to provide enough clean drinking water for a forecast growth in population to 100,000 in Faizabad by the year 2030. The second phase for the distribution network is currently in the preparation phase.
The partner responsible for implementation is the Ministry of Urban Development Affairs. After completion of the project, the Afghanistan Water Supply and Sewerage Corporation will operate and maintain the water supply system.
The drinking water supply project for Faizabad is part of a support programme for ten cities in northern Afghanistan. Water supply systems are under construction and in planning phases for Balkh city, Balkh province, and Imam Sahib in Kunduz province. In 2009, a nationwide water authority was established in Afghanistan to operate various facilities. The drinking water sector is a priority area for Afghan-German Development Cooperation, and so far the German Government has funded urban water supply systems via the KfW Development Bank.
---
---
Related Articles
President Hamid Karzai has planned a four-day trip to India where the leaders of the two nations are expected to
Khaleej Times-Traditional Afghan bakeries are doing brisk business with their dasha, tandour or tanour bread after the closure of many
Presided over by President Ashraf Ghani, the National Procurement Commission (NPC) reviewed 28 contracts during their session on Saturday. Of