Germany supports the Afghan Government in promoting energy efficiency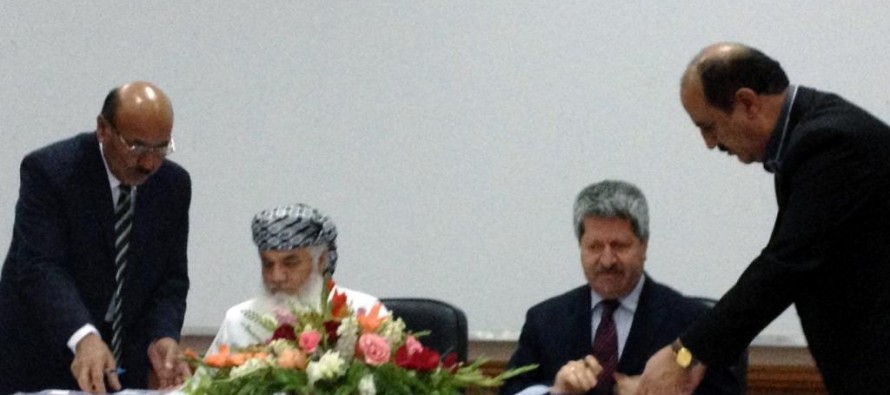 On June 30th, 2013 a memorandum of understanding between the Ministry of Energy and Water (MEW) and the Afghan National Standards Authority (ANSA) was signed by Mohammad Ismael Khan, Minister of MEW and Popal Zai Popal, Director General of ANSA, in Kabul. Since 2010, the Afghan-German Cooperation was advising on this process under the umbrella of the Afghanistan Energy Program.
With the signature, Afghanistan is taking the next step in the national electrical standardization process. Afghanistan's electric power system is considered as the backbone of the country's economical and industrial development. Only a power system complying with national and inter- national standards can provide quality electricity to customers and function in a sustainable and efficient manner. Mohammad Ismael Khan, the Minister of MEW, stated "I am very happy to know that Afghanistan for the first time has national electro-technical standards."
As a result of the Afghan-German Cooperation with the MEW and the ANSA more than 100 national electro-technical standards relating to aspects such as cables, insulators, bulbs, plugs, energy meters or protective standards against electric shocks, or concerning power generation, transmission and distribution, have already been adopted by a national electro-technical committee.
National standards on power transmission or on electrical consumer products, for instance, en- sure that the available electricity is transported in an efficient manner and that consumers can use electricity safely in their homes.
While many standards have now been adopted formally, they need to be translated into action and applied by the private and public sectors. This applies, for instance, to the construction of new power lines as well as to the manufacturers of electrical products. MEW and ANSA will collaborate closely to achieve this goal for the benefit of the Afghan population. "I urge to all the relevant departments to implement the standards in the future projects so shall we reduce technical losses, generate revenue and provide safe and reliable energy to customers", Minister Mohammad Ismael Khan concluded.
Since 2010, as part of the German Cooperation with Afghanistan the Deutsche Gesellschaft für Internationale Zusammenarbeit (GIZ) GmbH has been supporting the Afghan National Standards Authority (ANSA) in its effort to improve an electro-technical standardization process. The project is financed by the German Federal Ministry for Economic Cooperation and Development (BMZ).
---
---
Related Articles
Afghan Finance Minister Eklil Hakimi attended the inaugural cermeony of the Central Asia Regional Economic Cooperation (CAREC) Institute in China,
Afghan government would set up a bourse in Kabul by mid-2016 as a single source for Lapis Lazulli, said Afghan
Pine nut traders in southeastern Paktika province have complained about lack of access to suitable markets for their products. The