Germany to continue assisting Afghanistan in infrastructure development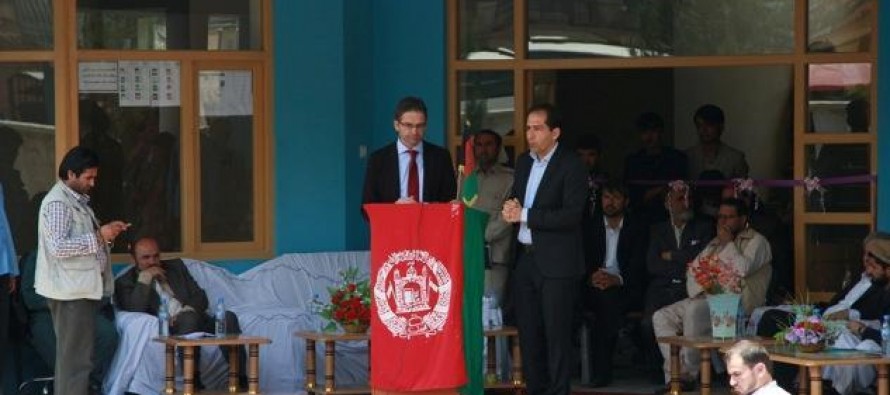 Germany has promised continued assistance in the reconstruction process of Afghanistan.
"Our assistance will not end. We will continue supporting Afghanistan beyond 2014 in its various sectors, including infrastructure development," said Deputy Ambassador Oliver Owcza.
On 11th of May two provincial buildings have been inaugurated in Badakhshan's provincial capital Feyzabad. They were funded by buy branded viagra online a grant from the German Federal Foreign Ministry. The building for the Provincial Department of Economy and the Saif Shahid Boys High School were realised under the managerial oversight of the KfW Development Bank and its partner, the Aga Khan Foundation.
The Provincial Department of Economy building, prioritized under the provincial delveopment plan and confirmed by provincial authorities, will provide office space to the department's director, its secretariat and administration. It can also serve as a shared meeting buy cheap generic viagra space for the Provincial Development Committee (PDC). The project was constructed viagra cheap fast shipping with a budget of 255,500 USD.
The Saif Shahid Boys High School was Great product and good special price. Viagra in canada, that is why we pay attention to the quality of the medications. also prioritized under the provincial development plan and confirmed by provincial authorities. The new school building will provide space for 5,600 students on a new teaching schedule that will increase class time by 50%. Construction of the school cost 574,000 USD.
Representatives and stakeholders from Badakhshan and beyond attended the inauguration ceremony, including Provincial Governor of Badakhshan, Dr. Shah Waliullah Adib; Head of the Provincial Council, Mr. Abdul Wahid Taibi; Deputy Ambassador of the German Embas-sy in Kabul, Mr. Oliver Owcza and Chief Executive Officer of the Aga Khan Foundation in Afghanistan, Mr. Akhtar Iqbal.
In their speeches, the dignitaries highlighted the importance of an adequate working envi-ronment to support the work of the Provincial Department of Economy in facilitating economic development and job creation. They also reviewed the long and productive relation-ship between the German Federal Foreign Ministry and Badakhshan's provincial government.
These projects have been constructed as part of the Stabilization Programme for Northern Afghanistan (SPNA), which is funded by the German Federal Foreign Ministry, managed by KfW Development Bank and implemented by the Aga Khan Foundation (AKF) in partner-ship with Mercy Corps and ACTED.
Since 2010, the SPNA has provided over 70 million USD to support high-quality rural infra-structure projects in Badakhshan, Takhar, Kunduz and Baghlan. So far, more than 180 infra-structure projects have been funded in 37 districts. AKF has worked in eight districts to con-struct more than 40 infrastructure projects in Badakhshan alone.
---
---
Related Articles
According to a recent report by the Special Inspector General for Afghanistan Reconstruction (SIGAR), Afghan Ministries are unable to manage
Officials of Agriculture and Livestock Department in Takhar province have reported that the farmers have expected a 15% rise in
The Government of Japan announced over $2.3 million new assistance to the Government of Afghanistan on Wednesday.  The funding will