Global survey reveals governments are failing to protect consumers in a changing world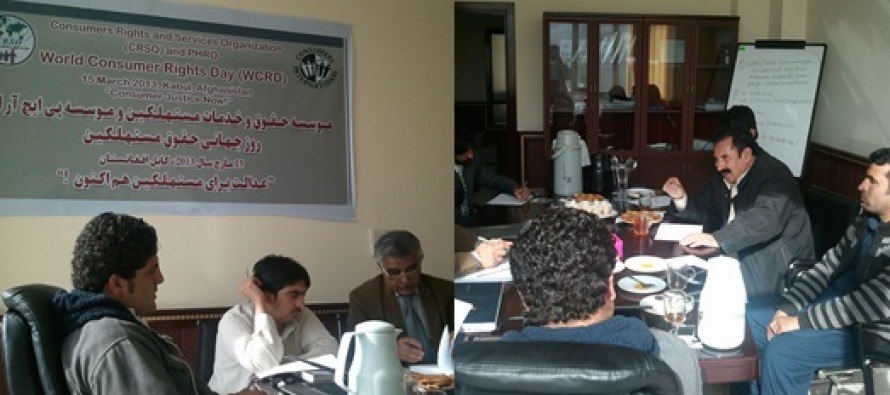 By Ahmad Masoud
Kabul, 16 March 2013: Consumers Rights and Services Organization (CRSO) and Peace and Human Rights Organization (PHRO) jointly celebrated World Consumer Rights Day (WCRD) on 16 March in Kabul by organising a round table attended by representatives of civil society organizations, the government officials, human rights organizations, the media and intellectuals.
The round-table's participants called on the government of Afghanistan to ensure consumer justice in all sectors, address consumer problems more effectively, develop a comprehensive consumer rights policy and apply national standards to ensure the quality of products.
"The Ministry of Justice should speed up the revision process of the draft of the consumer rights law and send it to the parliament for ratification as soon as possible," asks CRSO which is non-governmental organization and a member of Consumers International (CI), the international federation of consumer organisations with more than 240 members in 115 countries around the world.
A survey of consumer protection legislation conducted by Consumers International (CI) in 58 countries has revealed a concerning lack of government attention around some of today's most pressing consumer rights issues.
CI has published the survey results ahead of World Consumer Rights Day (WCRD), 15 March, and as part of the consumer movement's demands for the revision of the UN Guidelines on Consumer Protection.
Helen McCallum, Director General of CI says: "This global consumer protection survey is a unique piece of work. It is the first ever comprehensive attempt to highlight the gaps in consumer protection around the world, and should be crucial reading for anyone concerned about consumer legislation and the state of consumer rights."
Speaking on the occasion, Dr. Nezamuddin Katawazi, Director of (PHRO), encouraged the government of Afghanistan to involve civil society organizations, especially those with relevant experience and expertise, in capacity building efforts and promoting consumer rights, fair trade, and healthy competition in the country.
The results of the survey, which were collected by 70 of CI's national member organisations, including (CRSO) which is the first non-governmental organization that promotes consumers rights, fair trade and standardization in Afghanistan, revealed that barely half (52%) of the countries surveyed have a national policy to protect consumers.
Even where specific legislation does exist, it by no means guarantees consumer justice. For instance, while 91% of governments fine companies that violate consumer laws, only 55% order financial compensation to consumers.
The survey also indicates a lack of government action on contemporary consumer concerns, such as e-commerce, environmental impact and corporate behaviour:
Less than a third of governments (29%) have mechanisms in place to resolve e-commerce disputes out of court; meaning victims of online shopping malpractice may be forced to seek redress through expensive court settlements.
Barely half (52%) require companies to disclose energy consumption of home appliances; leaving consumers unaware of the environmental impact of the goods they buy.
Less than half (47%) use incentive measures – such as tax breaks, exemptions, and labelling schemes – to encourage consumer goods companies to be ethical and socially responsible.
The study also indicated a lack of commitment to consumer education, with only 38% indicating its inclusion within national school curricula and only two in five governments monitoring awareness of consumer rights within their borders. This comes despite consumer education and awareness being cited by many governments as a major tenet of effective consumer protection.
Helen McCallum: "This survey paints the picture of a job half done. While progress has been made in many areas, there is still an unacceptable lack of consumer protection in others – both in the developed and developing world.
"It shows that modern consumer concerns – such as digital rights, environmental impact, and corporate responsibility – are not being adequately addressed by governments. To address this, we want to see better laws, effective policy and tougher enforcement, alongside an update to the UN Guidelines of Consumer Protection so that they truly reflect the legitimate needs of consumers across the world".
It should be added that WCRD is celebrated around the world since 15 March 1962 when US President John F. Kennedy became the world first serving political leader who addressed consumer rights issue. The theme of this year's WCRD is "Consumer Justice Now!"
WCRD was for the first time ever celebrated by CRSO in 2012 and since then CRSO has produced a number of publications for the first time on consumer rights in Afghanistan including a comprehensive booklet on consumer rights and responsibilities, published in Dari and distributed to a wide range of audiences.
---
---
Related Articles
On Wednesday, 6th March, construction of a new water supply system in Balkh City has begun. The homes of around
President said in a meeting with Afghan parliamentarians that we should pressure on the US to extradite former Central Bank
Representatives from various line departments in Badakhshan came together to attend a training in construction project management. Project engineers learnt