Govern4Afg discuss policy planning civil society engagement in governance and budgeting for Afghanistan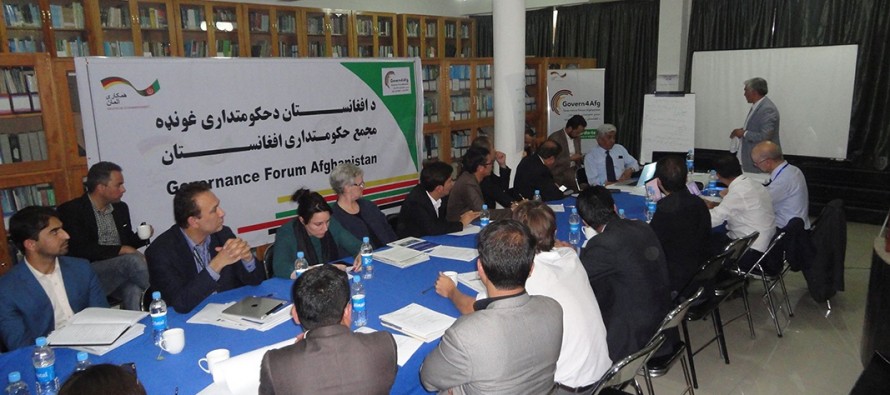 Civil society should hold local government more accountable, and stakeholders should  aim to implement new provincial budgeting policy. These were only some of the important conclusions two Govern4Afg open dialogues between the Afghan and German governments drew last week in Kabul and Mazar-e Sharif.
The two Govern4Afg events brought together senior researchers and policy-makers from both countries as well as government, donors and civil society organizations (CSOs), with the aim of opening talks discussing new governance initiatives of the Afghan government.
At the third Afghan-German Govern4Afg forum in Mazar-e Sharif, government and civil society experts and representatives discussed the role of civil society for good governance.
The role of the provinces in planning and budgeting was the subject of another Govern4Afg round in Kabul.
The German government supports the forums through its "Governance Forum for Afghanistan", a two-year project that provides a platform for an open dialogue on governance topics.
In Mazar-e Sharif, over 50 senior government and CSO representatives convened with German development cooperation workers to exchange views on the need for cooperation between government and civil society. The participants agreed civil society has an important role to play in holding government accountable for its actions. CSOs can therefore help ensure that government activities are of benefit to the population.
At the meeting, Dr. Florian Smitmans, Development Commissioner of the German Government, underlined the importance of civil society, saying, "It must not happen that Afghans turn away from state. Civil society should put pressure on the current government to prove that the Afghan state with all its deficiencies is the better alternative to any armed opposition group, which refuses any accountability."
40 senior representatives from the Ministry of Finance, the Ministry of Economy, the Independent Directorate of Local Governance (IDLG) and donors met to discuss Afghan plans to deconcentrate funding for provincial governments. The plan aims at increasing the success of projects managed by the Afghan state.
During the dialogue, Momin Mansoor, a senior official from the Provincial Budgeting Unit, said, "I urge all stakeholders to help in setting up this new policy. We can do this only if we all pull together." As pointed out by  Nabi Sorush, General Director of Policy and Results-Based Monitoring & Evaluation at the Ministry of Economy, "There have been improvements already, but there is still a long way ahead of us." During the dialogue the German government through their "Regional Capacity Development" program confirmed, that they will support the Afghan government during the implementation on this new policy.
The two-year project "Governance Forum for Afghanistan: Govern4Afghanistan" was launched by German and Afghan partners to establish a platform for policy dialogue on governance topics in Afghanistan. Researchers and policy makers from both countries will provide evidence-based input to foster a dialogue aimed at strengthening development cooperation in the governance sector.
---
---
Related Articles
Agricultural specialists, farmers, representatives from development councils and the Department of Agriculture conducted a meeting yesterday to investigate the challenges
Dozens of Afghan women's handicraft businesses have gone bankrupt in Badakhshan due to lack of a market for their products.
Norway's Prime Minister Jens Stoltenberg pledged USD 125 million per annum towards Afghanistan's reconstruction efforts and another USD 25 million