Govern4Afg sets target for 2016 research topics on governance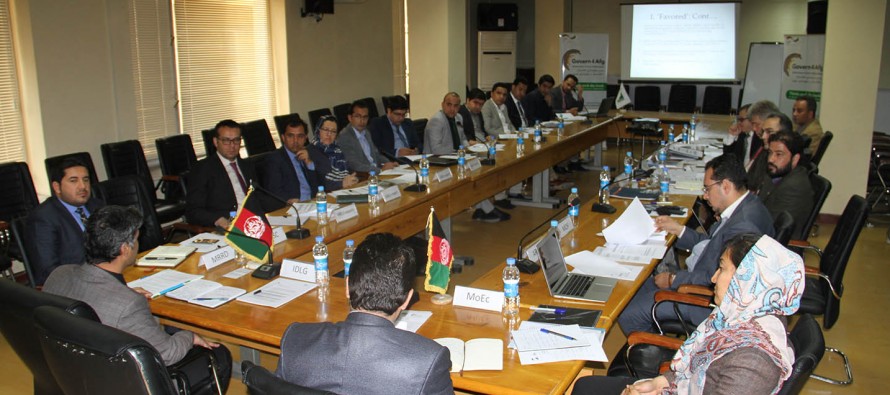 The Governance Forum Afghanistan (Govern4Afg), a platform for policy dialogue on governance topics in Afghanistan, discussed research topics for 2016.
In the upcoming months, Afghan-German expert teams will develop policy papers on six specific research questions. The findings will provide recommendations for the Afghan government on how to accomplish important reforms.
The activities of the think- and do tank, Govern4Afg, are funded by the German government.
At the beginning of this week, representatives of the Independent Directorate for Local Governance (IDLG), the Ministry of Economy (MoEc), the Ministry of Finance (MoF), the Afghan-German cooperation, the Afghanistan Research and Evaluation Unit (AREU) and Govern4Afg as well as policy advisors from various line departments and national experts discussed a list of 30 relevant research topics. These topics had been collected through interviews with political actors in Afghanistan. The list included subjects related to oversight and monitoring in local governance, the improvement of civil society organization's legal framework as well as urbanization.
During the meeting, in a vibrant and expedient discussion, participants cut the number of proposed research topics down to ten. They demanded Govern4Afg's experts to conduct research on topics such as service provision by key ministries, the role of non-government organizations (NGOs) in the development sector and how agriculture could support economic development in Afghanistan. In the upcoming days, AREU will, according to the feasibility of the projects, designate six research topics that will be conducted throughout the year.
Afghan-German expert teams will develop policy papers on the six research questions. Mr. Mohamad Ismail Rahimi, the Deputy Minister of MoEc, said, "Afghanistan's government has a special interest in research papers and policy recommendations. They allow us to review our policies and implementation mechanisms." All research topics address current issues related to governance in Afghanistan and are in line with the commitments of Afghanistan for reforms, good governance, state-building, the fight against corruption and improved service provision.
The Govern4Afg forum was created in 2015 and is currently finalizing last year's six research papers. The IDLG's deputy, Mr. Nader Yama, pointed out that, "The recommendations from the 2015 research papers have already received a lot of attention from the Afghan government and we are truly looking forward to this new set of research papers being prepared."
The two-year project "Governance Forum for Afghanistan: Govern4Afghanistan" was launched by German and Afghan partners to establish a platform for policy dialogue on governance topics in Afghanistan. Researchers and policy makers from both countries will provide evidence-based input to foster a dialogue aimed at strengthening development cooperation in the governance sector.
---
---
Related Articles
According to the Ministry of Labor, Social Affairs, Martyrs and Disabled, at least 2.5 million Afghans are unemployed–the highest number
Drivers complain low-quality fuel has flooded Kabul, despite the Afghanistan National Standards Authority (ANSA)'s promise to take measures to curb
Pakobserver- Afghan Minister for Refugees and Repatriation Dr. Jamaher Anwary and Mr. Abdul Jabar Taqwa, Governor of Kabul joined the