Government officials confer on "Afghanistan after 2014"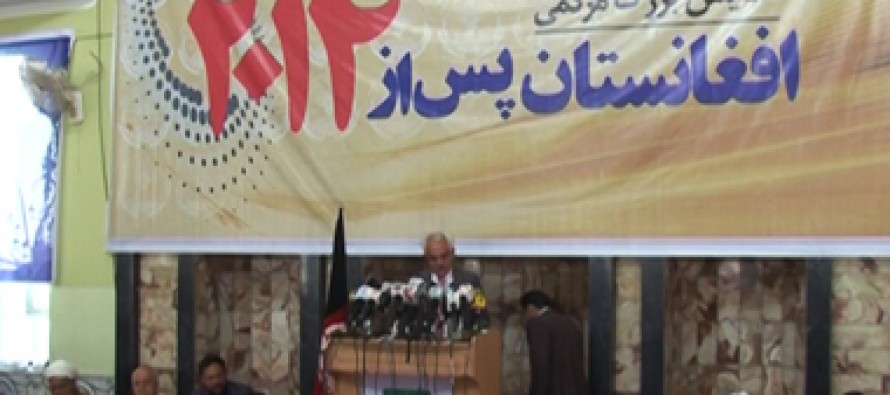 Afghan government officials gathered on Friday for the " Afghanistan after 2014 and beyond" meeting. The meeting touched on topics of peace process, the upcoming presidential election, the security transition and reduction of foreign aid.
With regards to the security transition, the officials spoke in one voice about freezing the Bilateral Security Agreement talks with the U.S. They emphasized on distinguishing Afghanistan's interests from those of its neighbors and the international community.
"Suspending talks with America on the security agreement was right, because if the international community wants to be allies with us then we should have joint strategic goals; the Taliban, who are our enemies, are not their [the international community] enemies, but rather Al Qaeda is their enemy. So if our goals are not shared and coordinated, then it means that our defense and security agreements with them [the U.S.] have no meaning," Tolo News quotes Dr. Rangin Dadfar Spanta, President Karzai's National Security Advisor.
The officials called for a transparent and inclusive election in their discussion on the upcoming election and good governance.
While Dr. Spanta expressed confidence in the abilities of the Afghanistan National Security Forces (ANSF), not all officials felt the same.
"I can tell you clearly that Afghanistan's security forces have no ability to provide security after 2014, and cannot even provide security in the capital. The U.S. has already told the Afghan defense minister that 'we will not build a conventional army in Afghanistan,' which means they [America] will not give fighter jets or heavy weaponry for Afghan security forces, but only want a gorilla and anti-insurgent army," Tolo News quotes MP Abdul Latif Pidram.
On his part, Commerce and Industries Minister Anwarul Haq Ahadi called concerns over 2014 baseless and regarded the year as crucial for Afghanistan in areas of politics, economics and security.
He said the challenges of 2014 will be accompanied by opportunities.
Supporting peace based on logic and within the confines of law, Minister Ahadi pleaded for reconciliation that did not compromise achievements and sacrifices of the past decade.
---
---
Related Articles
The World Food Program (WFP) receives a US$24 million contribution from the United States Agency for International Development (USAID) to
Following the signing of a Memorandum of Understanding (MoU) between Afghan Ministry of Communications and Information Technology and Turkey's Postal
Afghanistan Ministry of Transport and Civil Aviation reported that with the installation of new equipments in 26 provinces, revenues generated