Gym set up for female students at Aish-e-Durani High School in Kabul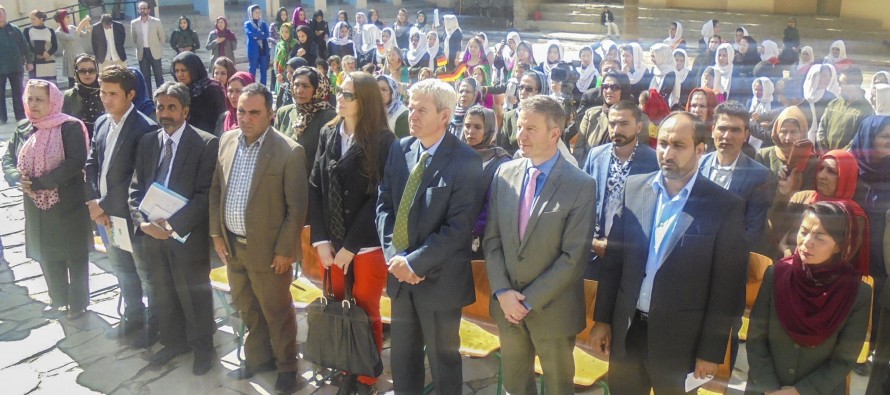 Work on setting up a gym for female students at Aisha-e-Durani High School officially began in Kabul on Wednesday.
The building will be ready in six months. The funding for the new facility comes from the German government. Construction of the new gymnasium will cost a total of AFN 18 million.
Attending the ground-breaking ceremony for the new gymnasium together with Syed Mohammad Mansoor, Head of Kabul Education Directorate, Markus Potzel, the German Ambassador to Afghanistan, said, "This country needs well-educated and healthy people. Hence, children must receive good education at school, but they should also be provided with the opportunity to do sports there."
After the ceremony, Potzel visited some classrooms and handed over sportswear to students and encouraged them to play sports.
One of the girls at the school added, "I can't wait until the gym is finished. I love to play volleyball, but I can't play it outside with my friends. Only my brothers are allowed to do so. When the gym is finished, I will finally be allowed to play volleyball as well."
The facility offers opportunities for playing basketball, volleyball, tennis, badminton and table tennis.
Women and girls often face challenges doing physical exercises in public. It is important that female students have the chance to do sports at school. Physical fitness not only influences children's general wellbeing but also their mental performance.
The German government supports schools in Afghanistan through various programs. During the last two years, the German Foreign Office has provided $13 million to three schools, Aish-e-Durani, Amani and Jamuriat. The Foreign Office's program for strengthening German supported schools has not only assisted in construction and renovation work, but also in training for teachers.
---
---
Related Articles
The municipality department in Mazar-e-Sharif, capital of the northern Balkh province, has reported that its revenue has increased from 300mn
A number of Kabul Bank personnel pulled from working as a result of delays in their salaries and the displacement
The Afghan Ministry of Labor, Social Affairs, Martyrs and Disabled (MoLSAMD) said 46 more vocational training centers would be established