Handover ceremonies of equipment for schools in Badakhshan, Balkh and Takhar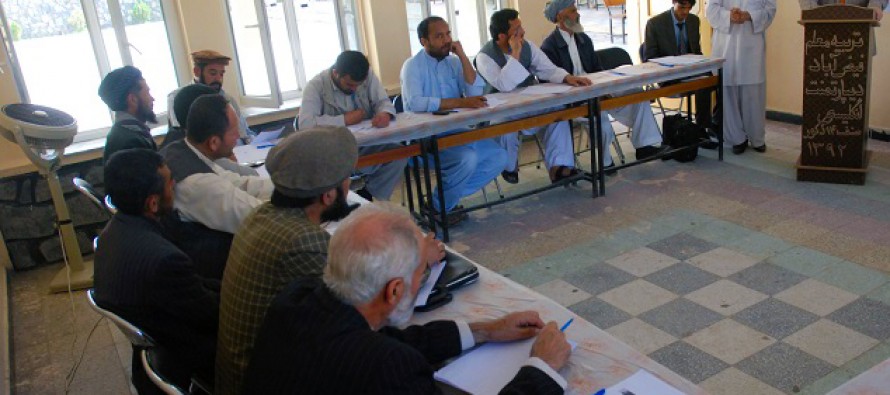 On July 27th, 2013, officials of the Provincial Council, the Governor's Office, the Provincial Education Department of the Afghan Ministry of Education (MoE), the director of the Teacher Training College (TTC) of Mazar-e-Sharif and representatives from schools and teacher development centers of the provinces Badakhshan, Balkh and Takhar attended the handover ceremonies for the equipment provided by the Basic Education Programme for Afghanistan (BEPA).
The equipment, worth over USD 700,000, went to district branches of TTCs, girls' high schools and madrassas. At the ceremony Nawid Sharify, Education Officer with BEPA in Mazar-e-Sharif, stressed in his speech that, "this equipment is part of a wider strategy to enhance girls'education in these districts, supporting female high schools and Sub-TTCs to train more female teachers."
Each school and teacher development center or Sub-TTC in two districts of each province received a fully functional IT lab including computers, printer, beamer, furniture, science laboratories with materials for science and mathematics experiments and a library consisting of about 500 books covering subjects ranging from literature to religious studies. The schools also each received a double container to serve as a new classroom and as a storage space for the delivered equipment, including a generator along with free fuel.
The beneficiary schools and Sub-TTCs also received mathematics, natural science and methodology trainings for their teachers and lecturers. These were carried out earlier this year and will continue after the Eid-al-fitr holidays in August. The Shuras of the schools are in intensive trainings to identify the most urgent needs of their schools and to strengthen their capacities to apply for funding. The trainings are in line with the formats and procedures of the Ministry's EQUIP programme to enhance education quality. Mr. Aminullah Amin, head of shura at Wahdat girl's school in Argo district said: "On behalf of female school students, I am very happy. I heartily thank GIZ, the Federal Republic of Germany and other involved organizations."
BEPA also supports the training of teachers of mixed, community-based schools and madrassas and funds projects by Save the Children, the Norwegian Afghanistan Committee and the Afghan Women Empowerment Programme (AWEP) in the three provinces to raise awareness on girls' education and to strengthen other school Shuras in the areas.
Since 2005, BEPA is a joint programme of German Cooperation with Afghanistan implemented by Deutsche Gesellschaft für Internationale Zusammenarbeit (GIZ) GmbH on behalf of the German Federal Ministry for Economic Cooperation and Development (BMZ) and the Swiss Development Cooperation (DEZA). Together with the MoE in Kabul and the education departments in the provinces BEPA aims at establishing a sound foundation for teacher training in Afghanistan.
---
---
Related Articles
The Introduction. President Trump is looking for better options before deciding policy on the war in Afghanistan. The latest headlines
The first cargo train from China is set to reach Afghanistan on September 9 after a 15-day journey. The train left
Afghanistan and Pakistan officials have agreed on collaborating in the field of higher education by embarking on a joint venture,