Heart of Asia-Istanbul Process leaders praise Afghan-India freight corridor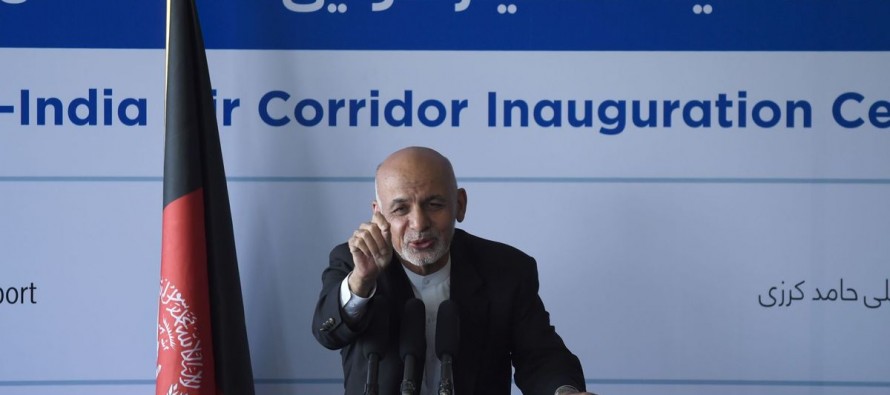 Stakeholders attending the eighth meeting of the Regional Technical Group of Confidence Building Measure on Trade, Commerce and Investment Opportunities under the Heart of Asia-Istanbul Process praised the establishment of the India-Afghanistan air freight corridor on Tuesday.
"With regard to the bilateral initiatives taken by India, the recent establishment of the air freight corridor between India and Afghanistan was welcomed as providing fast and assured access to farmers of Afghanistan to the large markets in South Asia and beyond," the External Affairs Ministry of India said in a statement.
The first cargo flight from Kabul to Delhi, establishing air freight corridor, was received on June 19, 2017. Subsequently, cargo flight from Kandahar to Delhi arrived on June 24, 2017.
However, Afghan traders have voiced their concerns lately over the delay in cargo flights and have called it a 'failed process'.
The meeting today was attended by representatives of 17 participating countries and supporting international organizations, including Azerbaijan, Iran, Kyrgyzstan, Pakistan, Russia, Tajikistan, Turkey, Turkmenistan, the United Arab Emirates, Australia, Egypt, Germany, Britain, the U.S., the European Union and the U.N.
It was co-chaired by the Acting Director General, Economic Cooperation Department, Ministry of Foreign Affairs of Islamic Republic of Afghanistan, Hassan Soroosh, and Joint Secretary, Ministry of External Affairs, Dr. Deepak Mittal.
According to a statement from Afghanistan's Ministry of External Affairs, the participants shared the view that Afghanistan acted as a natural bridge in promoting regional connectivity and economic integration.
"There was consensus that economic development was an important factor in ensuring peace and stability in Afghanistan and the Heart of Asia Region. In this context, the participants shared views on various measures and steps to promote transit and trade and realizing reliable and robust connectivity, with Afghanistan as the hub."
The meeting recognized the need to make the existing transit and trade agreements more inclusive and comprehensive by expanding them both northwards and southwards to connect South Asia with Central Asia; strengthening growth of small and medium enterprises (SMEs) and involvement of women in economic development, including through women entrepreneurship; and simplifying customs procedures.
India's initiative to work with industry body FICCI to develop a web portal to exchange information on regional markets, trade and investment opportunities, and facilitate networking between businesses for participating countries was also praised.
The Heart of Asia – Istanbul Process was established in November 2011 to expand coordination between Afghanistan and its neighbors and regional partners in facing common threats, including terrorism, narcotics, poverty and extremism.
The U.S. and over 20 other nations and organizations support the process.
---
---
Related Articles
A number of Kabul residents have complained that the buildings of many private hospitals are not standard. Most of these
Head of the central bank warns about the smuggling of US dollar out of Afghanistan through the borders and links
Roshan, Afghanistan's leading telecommunications provider, has appointed Islamuddin Amiri, the captain of the national football team, as their new business