Herat Factories Struggling to Compete with Imports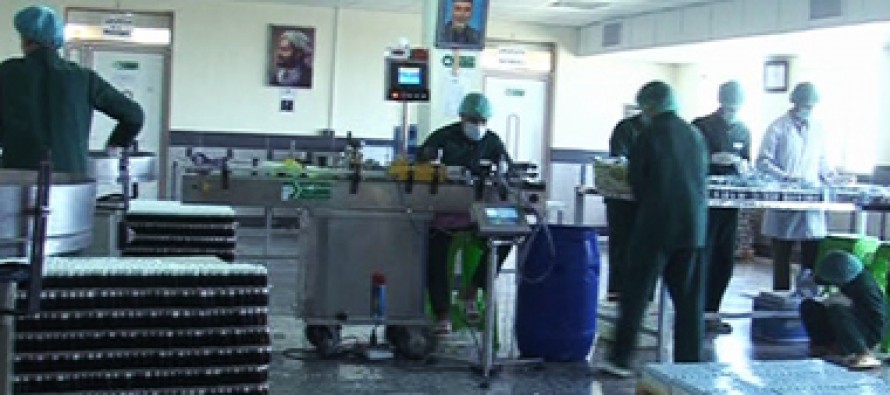 Around 300 factories in Herat have recently gone bankrupt or are headed for bankruptcy of around 400 which used to exist, according to the Herat Industrial Union.
Lack of security, poor facilities, price dumping by neighbouring countries, and high customs tariffs on raw materials are some of the reasons cited for the struggling industrial sector, Herat Industrial Union chief Hamidullah Khadim told TOLOnews.
However, Herat police reject the claim of poor security afflicting business.
"Afghanistan's enemies do not want peace and development but with the relative security that we have, there is still investment opportunities and we are trying to gain more security for our residents and investors," Herat deputy police Gen. Abdulhamid Hamidi told TOLOnews.
The 100 factories still operating in Herat employ around 8,000 residents.
"It will be very difficult if the situation continues like this in Herat industrial city. The problem is not in one place but today Herat industrial city faces dozens of troubles and this can close the doors of these factories and leave the workers jobless,"
Khadim said.
Business owners are frustrated by the lack of attention given their importance for the economy, citing foreign competition as the main problem.
"I have one question… why are similar goods from foreigners being imported to Afghanistan?" investor Abdul Karim Shirzad told TOLOnews.
A senior employee of one investor company, Noorullhaq Faizi, said the lower prices from imports were of particular concern.
"Strong price dumping policies are continuing from neighboring countries and customs taxes for raw materials are more than taxes for finished materials. So now how is it possible to compete with foreign goods?"
The factories produce a variety of goods including foodstuffs, pharmaceuticals, beverages and construction materials.
"The decrease of customs taxes is not a solution for this problem. Aside from the taxes, there must be other facilities for investors," Herat provincial customs chief Mohammad Tamim Kakar told TOLOnews.
The minister of commerce and industry Anwarul Haq Ahadi said that Afghanistan does act against price dumping.
"We have been against price dumping and still we are against price dumping. We are supporting our craftsmen against the region countries' price dumping policies," he said.
The Afghanistan Investment Support Agency (AISA) said it has set up a network under the organisation to investigate opportunities and advise investors.
"We have established an organisation under AISA to investigate investment opportunities in Afghanistan and to share with investors so before starting any activity we will give them advice of which field of investment is profitable," AISA chief Wafiullah Aftakhar told TOLOnews.
Source: Tolo News
---
---
Related Articles
Afghan female entrepreneur Marghuba Safi is the owner of Peshraft Zanan (which translates into women's progress), Afghanistan's first-ever producer of
A fire that engulfed overnight in Mandawi, Kabul's main Commercial District, destroyed about 600 stores and inflicted millions of dollars
Afghanistan's Aviation and Transport Ministry has assigned a committee to investigate the high prices of Pakistan International Airline's (PIA) tickets.