Herat farmers to make 500mn AFN this year from saffron business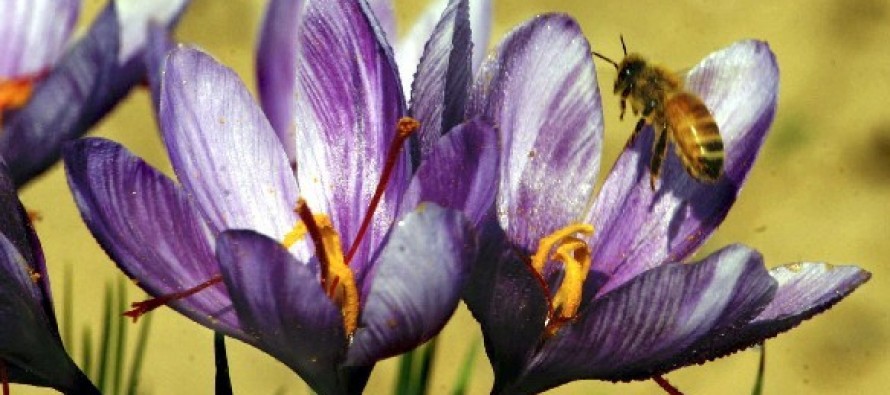 Saffron harvest season has kicked off in Herat province and farmers are expecting to generate about 500mn Afghanis in revenue this year.
According to Herat's agriculture officials, almost 1,000 hectares of land were planted with saffron and 140tons of saffron corms have recently been distributed to the farmers.
"Herat's saffron is unique in its color and smell and has the best quality among the 300 types of saffron that are produced worldwide," said agriculture provincial official Ghulam Dastageer.
He added the price of Herat's saffron hovers at 100,000 to 120,000 AFN in the international market. "No other crop can replace saffron. And, it is the best alternative to opium," said Dastageer.
Afghanistan was recently ranked the world's best saffron by the International Taste and Quality Institute in Belgium, Brussels for the third year in a row.
The spice is certainly a lucrative business to the farmers and given its ability to be grown in a dry environment, it may be a viable alternative for the poppy cultivation in the country.
The plant is drought resistant and only needs irrigation twice or three times a year, compared to poppy plants irrigated six times a year. Another advantage is that growing saffron is legal in Islam, unlike poppy that is prohibited.
It is normally cultivated in summer and collected in the last month of fall. It is used in making medicines, adding flavor to food, appetizers, and hot drinks and making perfume. It grows best in areas with light winter weather and dry, hot summers.
---
---
Related Articles
Afghan Teacher, Azizullah Royesh, has made it to the top 10 finalists for Global Teacher Prize of Varkey Foundation. Royesh
With a cost of more than 5,000,000 AFN, five projects of the National Solidarity Program of the Ministry of Rural
The Afghan Chamber of Commerce and Industries (ACCI) is working together with the Central Statistics Office (CSO) on the creation