How to Turn Your Weaknesses Into Strengths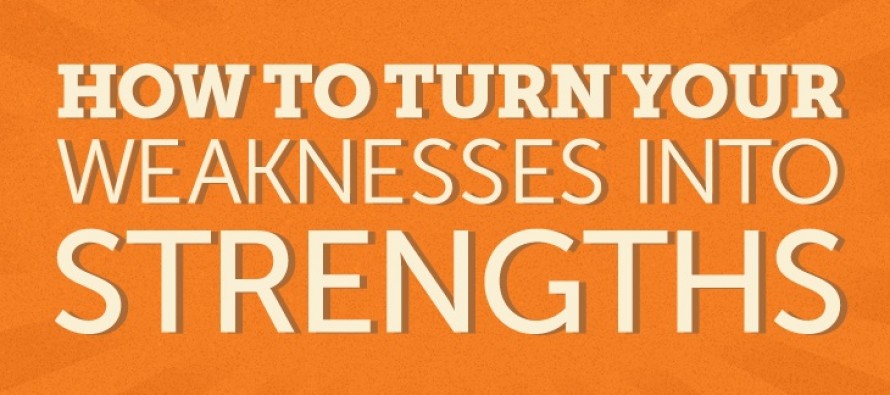 Think about your biggest weaknesses at work and in life. What qualities are you most unhappy about? Of the following list of 16 typical weaknesses, look carefully and choose the three that resonate most with you:
1) Disorganized
2) Inflexible
3) Stubborn
4) Inconsistent
5) Obnoxious
6) Emotionless
7) Shy
8) Irresponsible
9) Boring
10) Unrealistic
11) Negative
12) Intimidating
13) Weak
14) Arrogant
15) Indecisive
16) Impatient
Got your three biggest weaknesses? Great. (Don't be too depressed, the rest of this activity is more fun). Next, look at the below list, find the same three weaknesses, and look at the traits to the right of each of your three biggest weaknesses:
1) Disorganized —> Creative
2) Inflexible —> Organized
3) Stubborn —> Dedicated
4) Inconsistent —> Flexible
5) Obnoxious —> Enthusiastic
6) Emotionless —> Calm
7) Shy —> Reflective
8) Irresponsible —> Adventurous
9) Boring —> Responsible
10) Unrealistic —> Positive
11) Negative —> Realistic
12) Intimidating —> Assertive
13) Weak —> Humble
14) Arrogant —> Self-Confident
15) Indecisive —> Patient
16) Impatient —> Passionate
The three qualities to the right of your three weaknesses are all strengths.
Hidden in your weaknesses are your strengths.
Every weakness has a corresponding strength.
The idea here is simple: Instead of trying to change your weaknesses, accept them. Don't try to fix them – it's too difficult. Instead, be sure to leverage your associated strengths. You can look to colleagues, direct reports, and even supervisors to fill in the gaps where you are weakest. Don't be afraid to ask people for help- they can add value where you are weaker. But be sure to embrace your strengths, and build upon them. After all, your strengths (even those disguised as weaknesses) – will get you far in your career, and in life.
By Dave Kerpen
---
---
Related Articles
  India's state owned airline, Air India, resumed its flights between Kabul and Delhi after a two-day suspension. The airline
According to the Ministry of Energy and Water, funding shortages, insecurity and charges from the local people are the main
The National Procurement Commission (NPC), has canceled the contract for exploration of Nuraba gold in mine in Chahab District of