IDP families in Balkh find access to potable water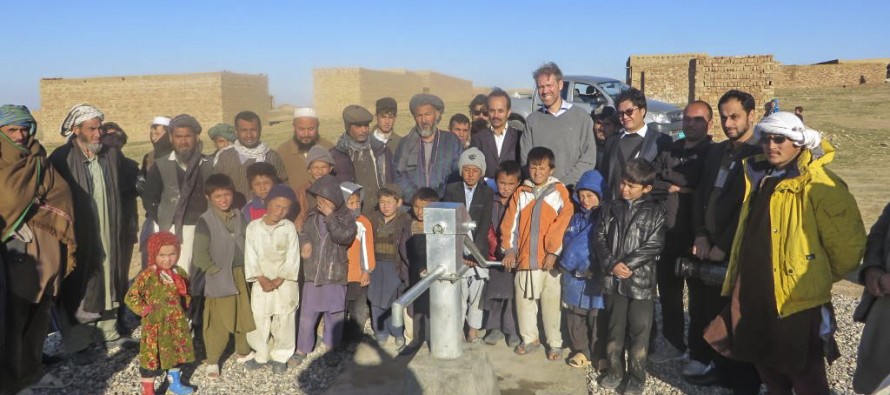 Following the completion of construction of a 1.4 km pipe network and a deep well, 100 internally displaced people (IDP) have found access to clean drinking water.
The well for the drinking water is located in Nahri Shahi's internal refugee camp, the township of Qalin Bafan (carpet weavers), near Balkh's capital Mazar-e Sharif. Providing access to clean drinking water is one of a number of measures the German government is taking to improve the lives of the township's inhabitants. It is part of a larger effort to viagra in us support the Afghan government in long-term solutions for integrating IDPs in host communities.
With the installation of the new well, residents of the carpet weavers township no longer need to travel long distances to collect water from the host community's wells. This used to be time consuming, difficult in cold winters and also cheap propecia online strained relationship with the host community.
"We used to get the water from the host community's well. Due to having to transport the water, it was often unhealthy generic prescriptions propecia to drink. The villagers suffered from different discount viagra australia diseases, including diarrhea. The situation was unsustainable. With Germany's support, we now have a deep well with solar-powered pump systems, so we finally have safe and clean water – free of charge," said Haji Ghiyas a community leader.
Alexander Fierley, Deputy Consul of Germany to Afghanistan, said, "We are very happy that the construction works are finished and that 650 people, including women and children now have access to drinking water."
Afghan Minister of Refugees and Repatriation, obtain viagra without prescription Sayed Hussain Halimi Balkhi, emphasized that German support was not limited to funding this water network.
"Germany has done a lot to assist the Afghan government in finding sustainable solutions for integrating IDPs and returnees. These families here used to live in tents until they recently received proper shelters." Besides shelters and wells, Germany has built several schools and latrines in various IDP townships in the north, and also offered training in various issues.
The new water network is part of an Afghan-German cooperation program, which supports the Afghan government in integrating internally displaced people in their new communities. With the construction of this pipe network, the provincial government's capacity to support internal refugees has been strengthened in line with the national strategy. The program is supported by the German Federal Foreign Office and implemented by Deutsche Gesellschaft für Internationale Zusammenarbeit (GIZ) GmbH in Afghanistan.
---
---
Related Articles
German Foreign Minister Guido Westerwelle officially opened Germany's first consulate in northern city of Mazar-e-Sharif. The facility will soon employ
Pajhwok Afghan News Weekly Price Report-Food items' prices decreased during the outgoing week in Kabul, where the rates of gold
Officials from Herat's customs department have expressed their concerns about the illegal imports of substandard quality goods through Herat's borders.