IMF calls on international community to rise to returning refugees challenge in Afghanistan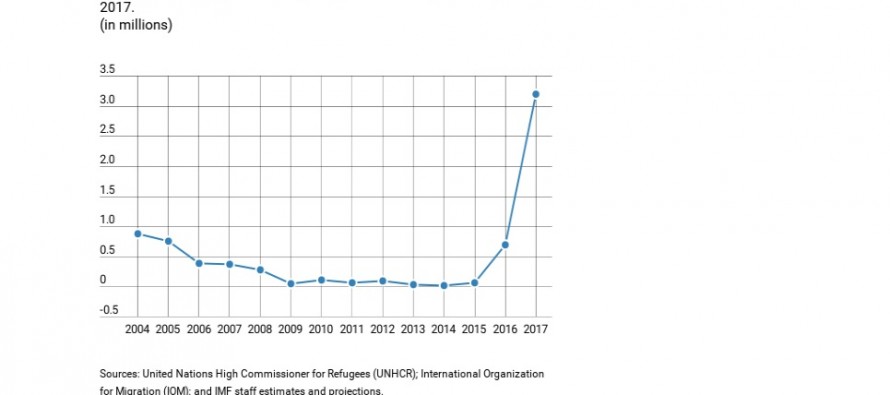 The International Monetary Fund generic viagra online uk (IMF) called on the international community to assist Afghanistan with the financial burden caused by the influx of refugees.
"While the Afghan government works to strengthen internal coordination and strategic planning, the international community also needs to play a vital role in providing financial and humanitarian support to avert a crisis and limit the damage to Afghanistan's already challenging social and security conditions, and development prospects," IMF said in a statement on Thursday.
Afghanistan purchase cialis online is seeing a surge in returning refugees, with absorbing more than 700,00 returnees from Pakistan, Iran and Europe.
Analysts have predicted that up to 2.5mn returnees will follow over the next 18 months, which will add nearly 10% to the present 33mn population of the country. Moreover, more than one million internally displaced people presently exist in Afghanistan, the number http://www.radiokolej.cz/domains/radiokolej.cz/bester-preis-levitra/ of which significantly increased in 2016 as the insurgency intensified.
The Afghan government has put in place policies for returnees and internally displaced people. For example, documented refugees receive cash grants  and displaced families receive one-month cheap generic cialis uk support assistance. However, with the tight budgetary constraints, Afghanistan cannot rise to this challenge without support from the international community.
The UN has appealed for USD 240mn in humanitarian assistance for the returning refugees as part of the broader 2017 Humanitarian Response Plan for Afghanistan. The IMF is providing support to the Afghan government in this viagra in usa regard through the Extended Credit Facility. The arrangement provides access to USD 45mn over three years with low interest rates and long maturity.
The IMF emphasized on supporting the government's efforts to strengthen government institutions, improve public service delivery and support job creation during these difficult times.
---
---
Related Articles
Afghan Finance Minister Eklil Hakimi was summoned by the Lower House of the Parliament, or Wolesi Jirga, to justify the
(Pajhwok Afghan News Weekly Price Report) The price of gold increased but foodstuff rates stayed unchanged in Kabul during the
In a bid to strengthen bilateral ties, Australia and Afghanistan set up a trade council in Kabul. Addressing the ceremony