Implementation of provincial budget policy kicks off in 4 ministries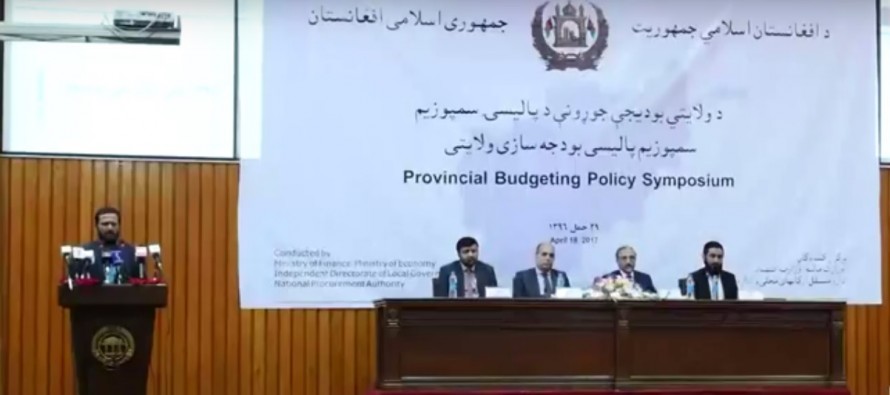 The implementation of provincial budget policy has kicked off in ministries of agriculture, irrigation, public health, education and rural rehabilitation and development.
Addressing a conference on the provincial budgeting policy in Kabul on Tuesday, Finance Deputy Minister Shafiq Ahmad Qarizada said the provincial development budget for every province from each ministry would be USD 1mn.
"The purpose of this policy is to decentralize budget resources and delegate authorities of the central budgetary units to the provincial directorates in a transparent manner," said Qarizada.
Also speaking on the occasion was Economy Minister Abdul Sattar Murad who regarded the policy as an important step towards achieving growth and balanced development.
"Giving more authority to local governments and institutions will enable them reach their goals of growth and balanced development, which is one of the priorities of the government. Specifying the roles of central and local officials and establishing a good financial and planning system will enable the government to achieve growth and balanced development.
As per the policy, local governments will be more involved in planning provincial budgets of development projects in consultation with the people. Furthermore, they will have more authority to spend the budget.
Meanwhile, a number of parliamentarians criticized the government for taking away the authorities of the local governments over the past two years.
"Two to three years ago local governments were involved in planning and budgets, but in the past two years their authorities have been taken away by the central government. I urge the ministers of economy, finance, the National Procurement Commission and the government to reinstate authorities to local government," said the head of the Wolesi Jirga's Finance Commission, Amir Khan Yaar.
---
---
Related Articles
The Bank of England is next after Australia, Brazil, Japan and Hong Kong to sign currency swap agreement with China.
Reduction in the development budget has been a major issue for implementation of development projects in the country. Some of
The Prime Minister of India, Dr Manmohan Singh called the President of Islamic Republic of Afghanistan Hamid Karzai today to