In Kabul, food prices show mixed trend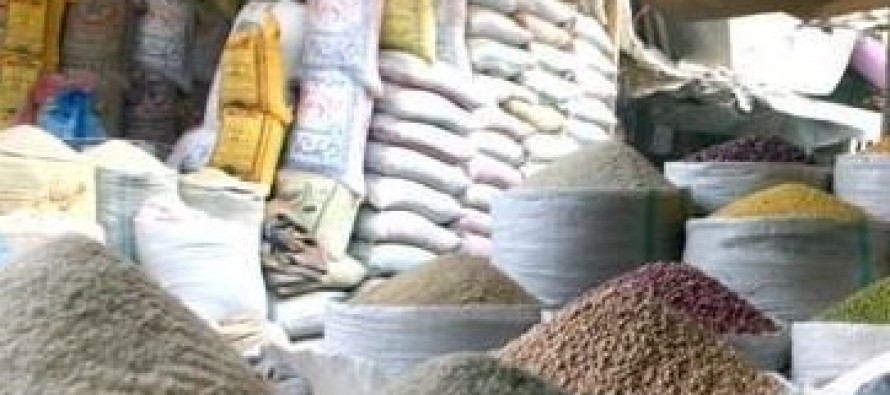 Pajhwok Afghan News Price Report: Prices of flour and rice increased while rates of firewood, sugar and ghee declined during the outgoing solar year, compared with 1390 trends, traders said on Tuesday.
In March 2012, a litre of petrol cost 66 afghanis and diesel 64 afs, with a kilogram of liquefied gas priced at 60 afs. Today, one litre of petrol accounted for 57 afs and diesel for 57 afs at the Wazirabad Filling Station in Kabul.
Similarly a kg of gas sold for 45 afs, according to a dealer in the Taimani locality, Mohammad Sharif, said.
Last year, a 49-kilogram bag of Pakistani flour sold for 990 afs, 24-kg sack of rice for 1,300 afs, a 50-kg bag of sugar for 1730 afs, a five-kg tin of Momin ghee for 420 afs, a kilo of back African tea for 200 afs and the same quantity of Indonesian green tea for 170 afs.
As of Tuesday, Haji Fazal Rahman, Food Traders' Union head, said a 50-kg bag of Pakistani sugar cost 1,650 afs, 24 kg of rice 1,680 afs, 49 kg of flour 1,150 afs, a five-kg can of ghee 400 afs, a kilo of black tea 200 afs and as much green tea 175 afs.
Pakistan had been faced with a lingering electricity shortage over the past year, forcing an economic slowdown and closure of industrial units in different cities, he said. Subsequently, the price of rice substantially went up.
He added the commodity price was reasonable in India, but Pakistan was creating hurdles to trading between Kabul and New Delhi, Fazal Rahman alleged. Rice imports from India through alternative routes took a longer time and involved more expenses, he explained.
Gold prices also went up during year. Abdul Basir, a jeweler in the Lycee-i-Maryam neighborhood, said the price of one gram of Arabian gold had increased from 2,250 afs to 2,300 afs and the Iranian variety from 1,850 to 1,950 afs.
---
---
Related Articles
Asadullah Ramin has lost all his hope for his country. According to the report by Associated Press, Mr. Ramin is
The USAID University Support and Workforce Development Program (USWDP) held a job fair at Herat University on December 22nd to
United States Ambassador P. Michael McKinley, on behalf of the United States Agency for International Development (USAID), presented the Afghan