Inauguration of the obstetrics facility on FMIC premises in Kabul by Aga Khan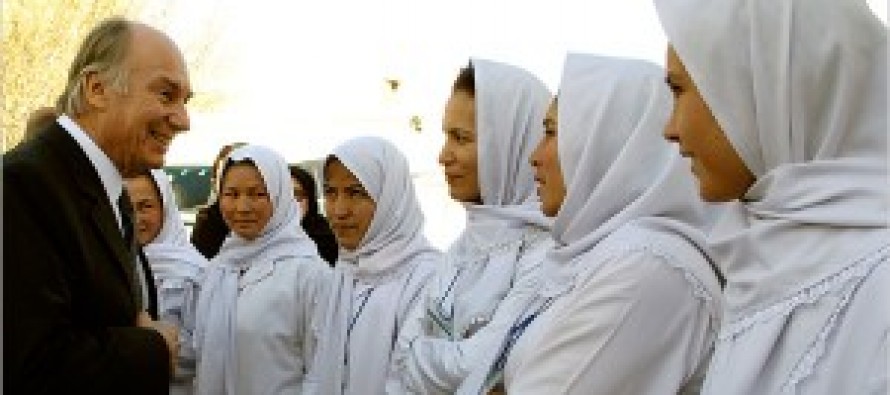 The stone-laying foundation ceremony of the new wing on the premises French Medical Institute for Children (FMIC) for obstetrics and gynecology services was held today in Kabul.
Present at the occasion were His Highness Prince Karim Agha Khan IV, the 49th and current Imam of Nizari Ismailism, the nation's vice president Karim Khalili and French Foreign Affairs Minister Laurent Fabius.
The new building, offering 52 beds for obstetric care and 14 beds for neonatal intensive care unit, is the first of its kind in Afghanistan and is expected to be completed within two years.
Costing USD 17.7mn, the new facility is jointly funded by the Government of France (USD 11.7mn) and the Aga Khan Development Network (USD 6mn). The project would be overseen by a dedicated team from FMIC and the Aga Khan University (AKU).
The agencies of the Aga Khan Development Network are private, international, non-denominational development organizations. They work to improve the welfare and prospects of people in the developing world, particularly in Asia and Africa, without regard to faith, origin or gender. Its programs are designed to bring a critical mass of economic, social and cultural activities to gear on a given area. Its projects encompass many of the determinants of the quality of life, including the natural and built environments in both urban and rural areas, food security, health, education, access to financial services and economic opportunity, as well as the cultural areas of traditional music, architecture and art. Some programs, such as specific research, education and cultural programs span both the developed and developing worlds.
The French Medical Institute for Children (FMIC) embodies a sign of hope for the medical treatment of children in Kabul since 2006. Built by La chaîne de l´espoir during 2003 to 2005 with the support of several donators and sponsors the hospital is run in cooperation with the Aga Khan Development Network (AKDN). There is also a close cooperation between the French and Afghan government. Even the German affiliate organisation of La chaîne de l´espoir, RobinAid takes active part in the medical support of FMIC since March 2009.
Currently the hospital provides about 85 beds including 15 beds for pediatric intensive care, 4 operation theaters, a department of radiology including CT-Scan and MRI plus a laboratory and children with severe illnesses can be treated as well.
In his speech at the ceremony, Aga Khan hailed the FMIC's standards of excellence, adding that there should be no need for the people to venture outside of the country to get quality health care.
France' foreign minister, Laurent Fabius, described the Kabul hospital and its staff as exemplary. He said he was greeted at the hospital door by a five-year old girl who had an open heart surgery just days ago. "What other justification does one need?" he said.
---
---
Related Articles
The National Solidarity Program of the Ministry of Rural Rehabilitation and Development (MRRD) have opened two health clinics in the
A transit agreement is due to be signed between Afghanistan, India and Iran. According to the Ministry of Foreign Affairs
A major aircraft maintenance workshop would be established at the Kandahar International Airport. According to Pajhwok Afghan News (PAN), the