India allows duty-free imports from Afghanistan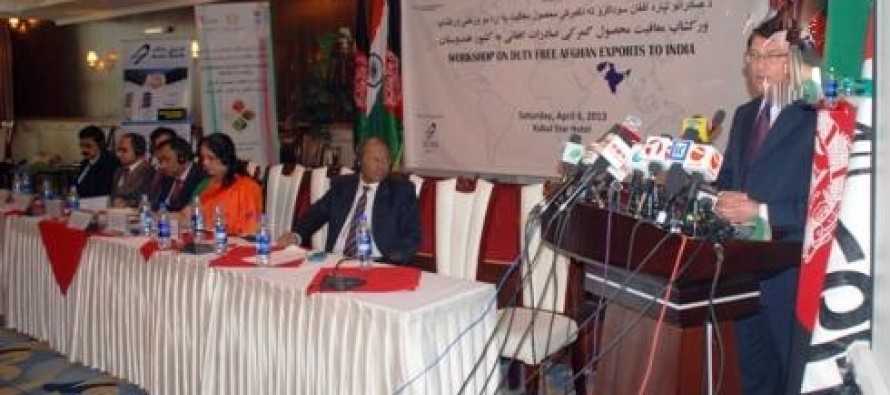 India announced Saturday that majority of agricultural imports from Afghanistan would be exempted of customs duty, in an attempt to strengthen trade ties between the two nations.
Afghanistan would be required to pay customs duty on 25 products out of 480 that are exported to India.
Indian Ambassador to Afghanistan Gautam Mukhopadhaya regarded Afghanistan's exports to India important for a stronger economy and emphasized on a long-term cooperation with the Afghan government.
Addressing the workshop on Duty Free Afghan Exports to India, Ms. Mukhopadhaya said India has provided the duty-free tariff preference to a number of other developing nations as well.
"Our aim is to see fortify Afghanistan's economy in order to help the nation stand on its own feet.  Afghanistan's agricultural products are considered highly valuable in our markets and are known for their high-quality," said Ms. Mukhopadhaya.
Afghan Minister of Commerce and Industries Anwarul Haq Ahadi said India is a major recipient of Afghanistan's exports.
"This is a great stride toward economic development and an assist for private entrepreneurs. Our traders must, therefore, make sure to comply with international standards and determine the appropriate price of their goods," said Minister Ahadi.
Meanwhile, Head of the Indian delegation Indra Poti said the governments of the two countries would endeavor to render further facilities to the traders.
Afghan traders expressed their happiness about this decision and said this would provide the platform to increase the quality of their products and export their products to a bigger market through India.
"Before, I used to pay up to USD 2000 on customs duty in India. The exemption from tax is a terrific opportunity for us to expand our business," said Haji Amir, deputy head of the Kabul Traders' Union.
According to the officials of the Kabul Traders' Union, which consists of 60 private firms, a total of 360,000 tons of products were exported to India and Pakistan last year.
---
---
Related Articles
More than 40 companies operating in the field of renewable energies met Monday in Kabul to launch the Afghan Renewable
Ministry of Public Affairs officials say that work on the construction of Herat-Samangan railway will restart after 2 years of
Afghan Foreign Ministry announced Monday that two experimental shipments would soon leave for Europe through the Lapis Lazuli route. The