India commits to 116 new projects in Afghanistan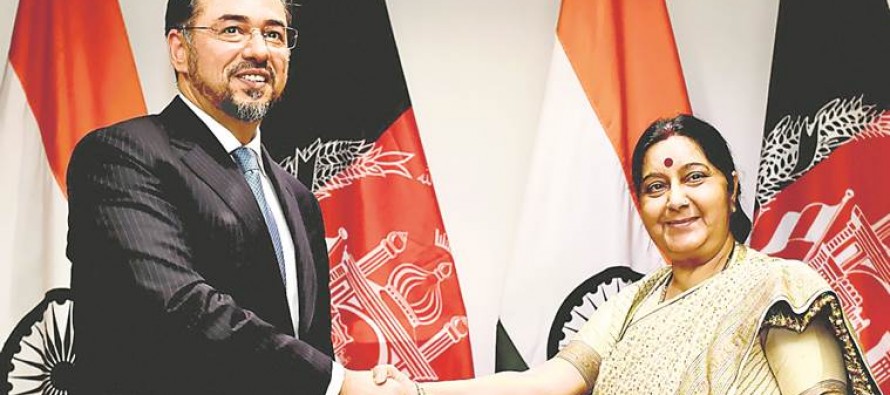 The Indian government has stepped up its development partnership with Afghanistan by committing to 116 new projects in 31 provinces.
The announcement was made during the bilateral talks between Afghan Foreign Minister Salahuddin Rabbani and his Indian counterpart Suhma Swaraj on Tuesday.
This comes three weeks after US President Donal Trump called on India to do more in Afghanistan on "economic assistance and development".
The projects range from drinking water supply to low cost housing, roads and polyclinics.
"Today, building upon our economic and development cooperation, we jointly agreed to embark on a New Development Partnership in keeping with the priorities of Afghanistan. 116 new High Impact Development Projects will be jointly implemented that will bring socio-economic and infrastructure development, especially in the suburban and rural communities in 31 provinces of Afghanistan," the Indian Express quotes External Affairs Minister Sushma Swaraj.
According to the source, the projects will be in the areas of education, health, agriculture, irrigation, drinking water, renewable energy, flood control, micro-hydropower, sports infrastructure and administrative infrastructure. They will include Shahtoot dam and drinking water project for Kabul that will also facilitate irrigation, low-cost housing for returning Afghan refugees in Nangarhar Province to promote resettlement, road connectivity to Band-e-Amir in Bamyan Province that would promote tourism to the National Park and economic development; water supply network for Charikar city in Parwan Province, establishment of a gypsum board manufacturing plant in Kabul to promote value added industry, and construction of a polyclinic in Mazar-e-Sharif.
---
---
Related Articles
Afghani currency dipped against the US dollar during the outgoing week in Kabul. A US dollar was worth 52.50 AFN,
The value of the Afghani currency has picked up pace after months of considerable decline. The uncertain political situation and
Built on a 5 acre land at a cost of USD 700mn, a new police headquarter was inaugurated on Tuesday