Indian Ambassador visits Indira Gandhi Institute of Child Health in Kabul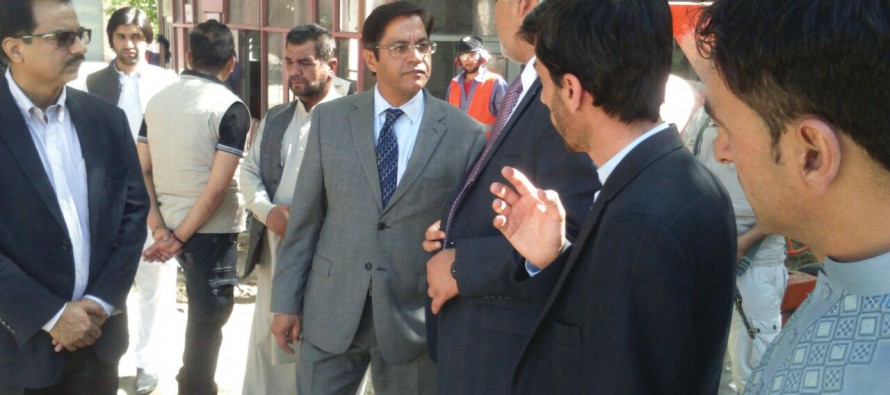 Indian Ambassador to Kabul, Manpreet Vohra, visited Indira Gandhi Institute of Child Health (IGICH), Kabul on Thursday to familiarize himself with the Institute and services being rendered by the Institute.
He also visited the recently established diagnostic centre and surgical ward at IGICH and saw the ongoing construction of two waste water treatment plants and related sanitation works, recently approved by the Embassy, which will cost approx. US$ 180,000.  This work is expected to be completed in three months' time and will greatly alleviate the hardships being faced by the hospital for lack of clean water and sanitation facilities.  Ambassador had discussions with Dr. Noorulhaq Yousufzai, Director, IGICH, and other staff of IGICH present, on various issues relating to further improvement of infrastructure, services and capacity building for IGICH personnel and thanked them for the good work they were putting in to improve the health and life of children.
IGICH was set up with Indian assistance in the '70s.  Foundation stone was laid by King Zahir Shah and Vice President of India Dr. Zakir Hussain in 1966 and was inaugurated in 1972 by King Zahir Shah.  The hospital was renamed as Indira Gandhi Institute of Child Health in 1985. Government of India has, over the past decades, been assisting IGICH through financial and technical support as well as human resource development through various training programs for doctors, technicians in in India and also through telemedicine network.
---
---
Related Articles
According to the Afghan Investment Support Agency (AISA), investment in Afghanistan by domestic and foreign companies hit USD 585mn compared
About 14,000 locals from villages of Hazar Sumuch and Kunjak in Takhar province will benefit from a reliable energy supply.
Afghan carpets were recognized as the best rugs and secured the first position during a Middle East exhibition in Dubai.