Indoor swimming pools and saunas for Afghan youths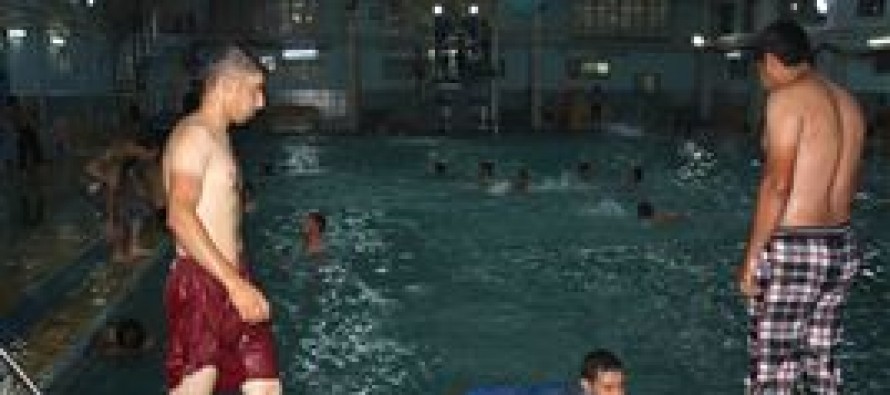 To provide entertainment opportunities for the Afghan youths, local investors have constructed public saunas and swimming pools in Kaarteh Seh and Kaarteh Chaar of capital Kabul.
Hundreds of young Afghan boys come to these places daily to enjoy their time.
"This is a great place for our entertainment. We forget about the terror out in the city, when we are here," says one youth.
"Swimming is a good sport for health. A lot of the boys don't know how to swim. But, when they come to these places, they learn how to swim," says another youth, Nasir.
Nasir urged the government and local investors to invest in constructing more of such places in other parts of Kabul.
Meanwhile, the owners of these swimming pools are happy about the revenue they are generating.
Haji Qasim Rezaye, owner of the "Lajaward Sauna", said in an interview with Radio Liberty that more than 200 people show up at his place, and most of them are young boys and athletes.
"I charge 500 AFN per person. There is a 50% for athletes. Medal winners are allowed free entrance."
Mr. Rezaye added that the swimming pools are purified with machines throughout the day. Lifeguards are present at all times to assist those who are not accustomed to swimming.
 Most of these swimming pools have assigned doctors as well to check some individuals for skin diseases or respiratory diseases before allowing them to enter the swimming pool or the saunas.
Shah Jahan Shaya, doctor at the "Lajaward Sauna", said sauna can be dangerous to those with heart diseases or throat inflammation.
"Sauna is good for health. The heat of the sauna relaxes the body, improves circulation and provides a wonderful after sauna glow."
These places offer swimming pools, saunas, Jacuzzis, and body massage.
---
---
Related Articles
On March 6th 2013 the celebration of International Women's Day took place in Mazar-e Sharif, Balkh Province. The Secretary of
Japan has contributed over USD 63.654 million to support improvement of irrigation systems and rural access in Afghanistan. The funding,
Pakistan generates millions of revenue annually from the carpet business by selling thousands of square meters of Afghan handmade carpets