International community pledges continued political & financial support for Afghanistan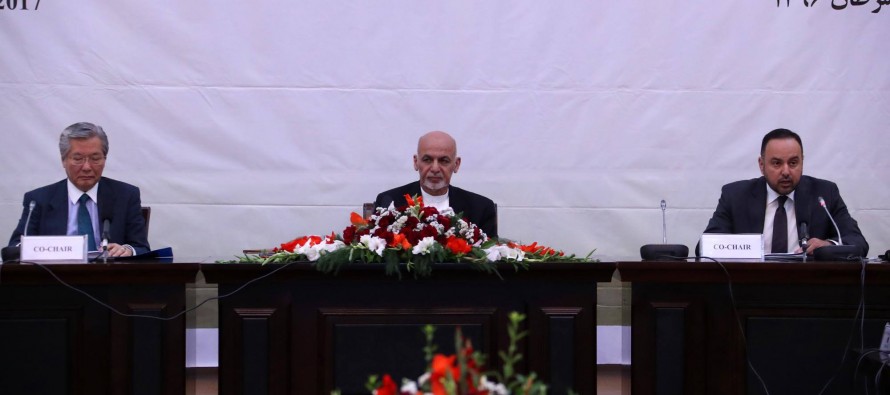 Afghan government officials briefed delegations from 29 countries and donor institutions on various issues including government's efforts to combat corruption, increase national revenue and implement reforms in government institutions at the Joint Coordination and Monitoring Board (JCMB) in Kabul.
President Mohammad Ashraf Ghani emphasized on the strategic locations of Afghanistan and its significance for the region.
He highlighted major projects, such as CASA-1000 and TAPI and said their implementation will help win the international community's trust in Afghanistan.
"Our economies are now linked, they [Asian countries] are becoming our largest partner and their trust in us, whether it is CASA or TAPI or the railways, proves a remarkable change and orientation," said Ghani.
The participants endorsed the reformed agenda presented by the Afghanistan and pledged to continue its political and financial support for the country over the next four years.
"The United States is and will remain Afghanistan's largest foreign assistance partner on both security and development," said U.S ambassador to Afghanistan Hugo Llorens.
"The government, with our partnership, to focus on for the future like getting more, larger cases through the anti-corruption center and ensuring that corrupt senior officials are held to account as well," said UK ambassador to Afghanistan Dominic Jeremy.
The international community has committed a total sum of USD 15.2bn.
JCMB was established in accordance with an agreement between the Afghan Government and the international community for overall strategic coordination on implementation of the Afghanistan Compact endorsed at the London Conference in 2006.  JCMB provides a platform for strategic coordination, joint policy formulation and problem solving in Afghanistan. It ensures the mutual accountability of the government and its development partners. It is co-chaired by Senior Minister (Head of the Government Coordinating Committee (GCC) from GoIRA and the Special Representative of the Secretary General (SRSG) in UNAMA, and is held at the senior level between government and its development partners.
---
---
Related Articles
Members of the Lower House have shifted the blame onto the government for the delay in ratification of Anti-Money Laundering
Residents and property dealers have expressed concerns about the aftermath of 2014. According to them, as the deadline for the
Afghanistan Chamber of Commerce and Industries (ACCI) called on the government to take practical steps for establishing good governance and