Internet services to be extended to all universities in Afghanistan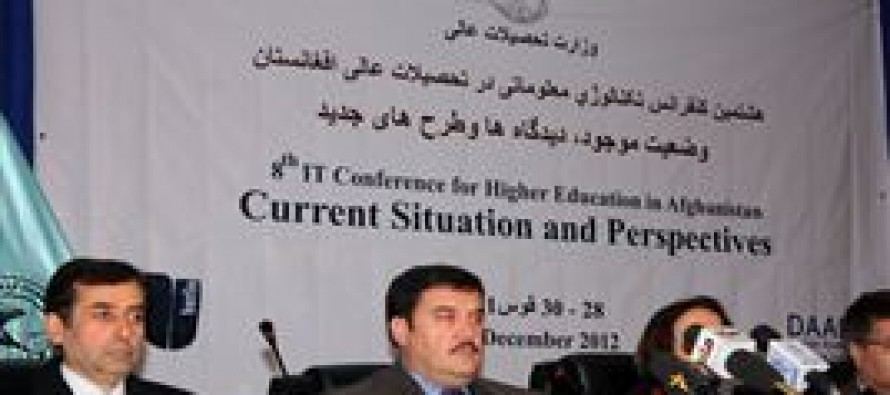 Afghanistan's Ministry of Higher Education will extend internet services to the universities across the country by next academic year.
The Ministry held its 8th conference on the extension of the Information Technology (IT) in Kabul.
The three-day conference was attended by government officials, university professors and students to present opinions and suggestions regarding the current IT situation in educational institutes of the country.
Addressing the conference, Higher Education Minister Ubaidullah Ubaid said his ministry is making efforts to provide internet services in addition to other improvements to the educational institutes.
"Based on our predictions, 10,000 college students, 50 PHDs and 500 masters should be educated in the field of IT by 2024. We are considering establishing communication via a video conference system between local universities and well-known international universities."
However, Minister Ubaid termed the safety IT system and effective usage of the technology by the teachers and students as some of the challenges that must be urgently addressed.
Present at the conference, Deputy Minister of Information and Technology Eng. Bariyalai Hesam said that 85% of the people have access to telecommunications services in the country. He added that his Ministry is making efforts to increase access to internet services among the public.
Meanwhile, Higher Education Minister said that Germany will provide assistance to the development of IT in the universities.
According to the German Embassy in Kabul, 24 Afghan students have obtained their masters degree in IT from Berlin University since the past few years. Another group of 24 students has just been sent to Germany to seek their degree in IT.
---
---
Related Articles
Leading the list of the world's most corrupt countries, Afghanistan is continuously facing challenges from its endemic corruption. According to
(UNAMA)-The UN Special Representative for Afghanistan on Wednesday promised to motivate donor countries to fund development projects in northern Faryab
Great quotes inspire us to change, to grow, and to become our best selves. I researched thousands of quotes from