Irrigation Projects Bring Hope to Shah Wali Kot Villages, Support for Afghan government Increases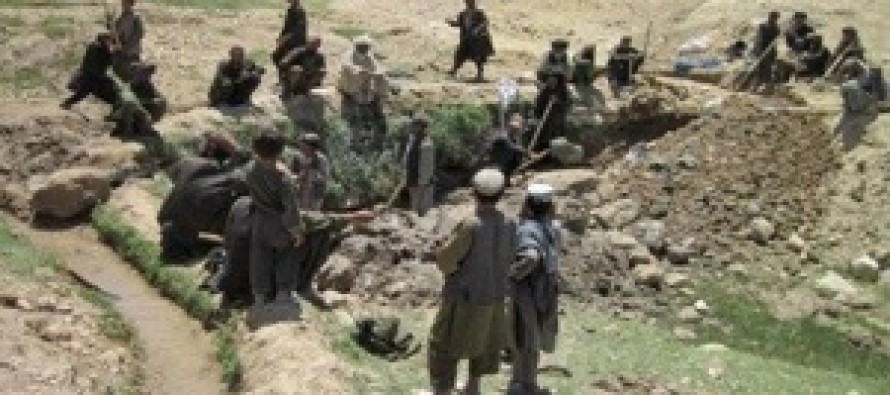 The Government of the Islamic Republic of Afghanistan (GIRoA) answered the locals' request for new development projects by completing a karez, an underground water-supply system, and a well project in Sha Wali Kot district, Kandahar province, Aug. 7.
The karez project, supervised by an Afghan contractor and built by 200 local workers, is the largest scale water project to date conducted by GIRoA in the area. The completed system provides irrigation water to Mano, Chenar, and Bagh de Srah villages.
Sha Wali Kot District Governor Obaidullah Popal explained that villagers benefiting from the karez system are happy and thankful to GIRoA for facilitating such projects.
"Projects of such nature help increase people's trust and confidence towards GIRoA and people are becoming more and more cooperative with the government," said Popal. "The karez increased the villagers' cultivation of tomatoes, potatoes, okra and various other vegetables."
The increase in crop yields will allow villagers to participate more in district center markets and promote future economic improvements.
The project was completed July 22 and is currently awaiting inspection from Sha Wali Kot district officials, set to take place after Ramadan.
The Kundelan well project is the first GIRoA project in the history of the village.
"People in Kundelan village are grateful to the government for digging the well. It has greatly helped the villagers by providing potable water" said Popal. "Also, a water pump was installed close to the mosque which has allowed the people to make ablution with clean water and to perform their prayers."
The well is approximately 45 meters deep and will provide drinking water for 52 families who are migrating back into the village.
Kundelan villagers use the fresh well water for cooking, drinking, taking baths and washing dishes. The convenient location of the well makes it easier for villagers to take the water to their houses.
The success of this project improves local sentiments towards GIRoA and gives Afghans hope for enduring government support.
"Most importantly, it has a positive impact on the relationship between GIRoA and the villagers," said Popal. "People of Sha Wali Kot are very appreciative and the well project has increased the trust and confidence of the village elders and families towards the central government. People are supportive of village developmental projects and are excited for the future."
---
---
Related Articles
Afghanistan and Turkmenistan signed agreements on improving ties in areas of agriculture, transportation and telecommunications during their fifth joint economic
The Ministry of Agriculture, Irrigation and Livestock (MAIL) announced fig production has increased in Kandahar, Herat and Faryab provinces this
"A debate is heating up between Kabul and Washington over Afghanistan's economic situation following the withdrawal of US-led forces in