Italy gives its assurance for supporting Afghanistan beyond 2014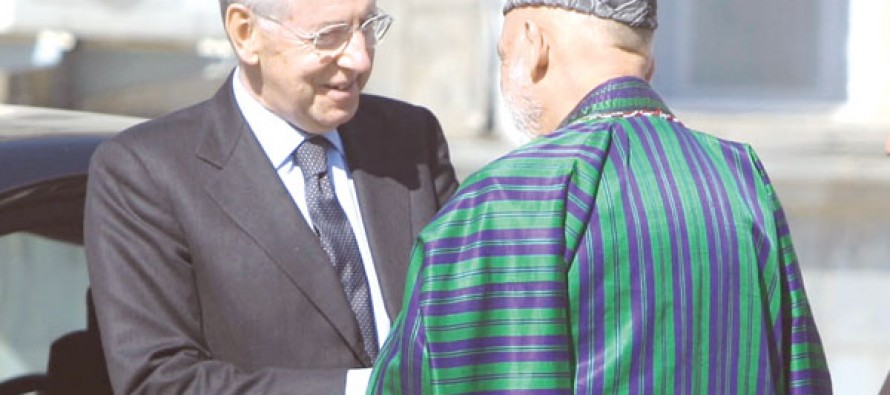 Italy's Prime Minister said his country not abandon Afghanistan post-2014.
Just as Afghanistan is sanguine about its betterment after 2014, Italy's Prime Minister also expressed his optimism about Afghanistan's development and progress after the withdrawal of foreign troops.
Mario Monti during his visit to Afghanistan visited President Hamid Karzai.
"We are looking forward to a positive change after 2014. Italy like other nations will change its support to Afghanistan; however, this does not mean Italy will leave Afghanistan alone," said Prime Minister Mario Monti.
Prime Minister Monti considers the upcoming Afghan presidential election a new page in the political history of Afghanistan.
President Karzai expressed his gratitude to Italy's financial assistance so far to Afghanistan.
"Italy has granted more than USD 500mn to Afghanistan in the past decade. We have spoken about Afghanistan and its future election and the transition process. Just as we are certain, they [Italy]are certain as well that Afghanistan will lead itself to a good future," said President Karzai.
Italy has currently deployed 3,500 in Afghanistan, most of them operating in Herat.
Italy signed the long-term cooperation agreement with Afghanistan in January this year.
Optimism about Afghanistan's future comes amid concerns from the civil society organizations about deterioration of Afghanistan's situation after the withdrawal of foreign forces.
These concerns are rejected by the Afghan government and some of the countries.
---
---
Related Articles
Da Afghanistan Bank (Central Bank) announced that about 32 million US dollars arrived in the country on Monday and was
South Korean Ambassador Seong-doo Ahn once again assured the Afghan government that his country would continue to support Afghanistan's socioeconomic
Pakistan, Afghanistan, Kyrgyzstan and Tajikistan agreed in principle the terms and conditions of the CASA-1000 power purchase deal. A resolution