Japan donates 106 machineries to Afghanistan for road maintenance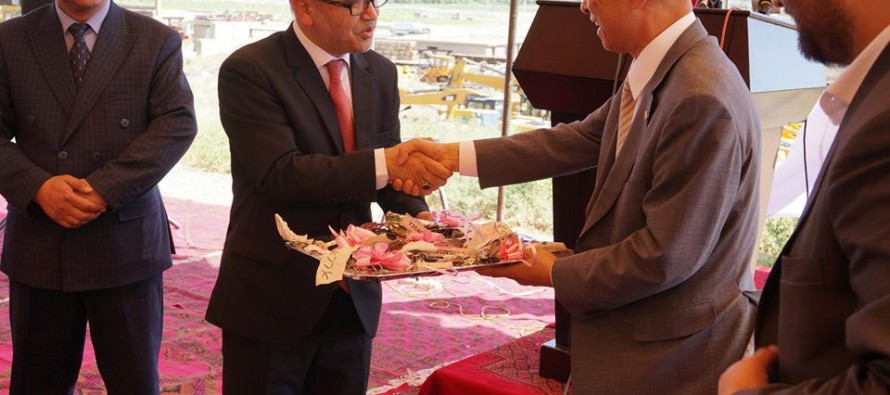 The Japanese government has donated 106 different machineries to the Afghan Ministry of Public Works for road maintenance in 12 provinces.
The machineries were handed over to the Afghan government at a ceremony on Wednesday. The handover ceremony was attended by Mahmoud Baligh, Minister of Public Works and Hiroshi Takahashi, the Ambassador of Japan to Afghanistan.
Furthermore, the Government of Japan decided to provide additional machinaries for seven locations in five provinces (Saripul, Herat, Kapisa, Takhar and Samangan) in order to enhance road maintenance capacity of MoPW, especially against snowfall, avalanche, flood and other natural disasters.
The "Project for Improvement of Road Maintenance Capacity in Afghanistan" is executed with the partnership of Japanese International Cooperation System (JICS) with the total budget of $32 million USD. The implemented machinaries are Wheel Loader, Excavator, Grader, Dump Truck and Snow Remover. As a result of the implementation, road maintenance capacity of provinces such as Kabul, Maidan Wardak, Ghazni, Badakhshan, Badghis, Baghlan, Bamiyan, Daikundi, Ghor, Logar, Paktia and Parwan will be significantly improved.
"The improvement of road maintenance by these machineries will stabilize the networking of transportation and movements of the people and promote the trade and products from rural areas to the main cities. Afghan people will have also better access to the basic social services like hospitals, schools and markets and the economy, which will change social life of people for the much better." said Ambssador Takahashi.
In Afghanistan, most of rural roads including important national highways are not in good conditions. Such roads are easily damaged by natural disaster, such as landslide, avalanche, heavy rain, heavy snow, flood, earthquake etc. and this required an urgent attention to maintain smooth running of national highways.
"On behalf of the people, government and particularly the Ministry of Public Works, I would like to express my sincere gratitude to the people and the government of Japan. These machineries will help Ministry of Public works to improve the maintenance of highways in critical areas," said Minsiter Baligh.
Japan has been assisting Afghanistan's nation-building efforts in various fields including security, education, health, culture, humanitarian assistance, agriculture, infrastructure and its capacity development. The cumulative Japanese assistance to Afghanistan since 2001 amounts USD 5.791 billion.
---
---
Related Articles
Kandahar Police Chief Abdul Raziq reported that the number of female recruits in the province rose from 30 to 80
The Telegraph-The British military took on one of the biggest operations of the war in Afghanistan to redeem itself after
The Indian government will supply 50,000 tons of wheat to Afghanistan in diplomatic deals, according to Indian news sources. This