Japan pledges $8.7mn to improve agriculture in Herat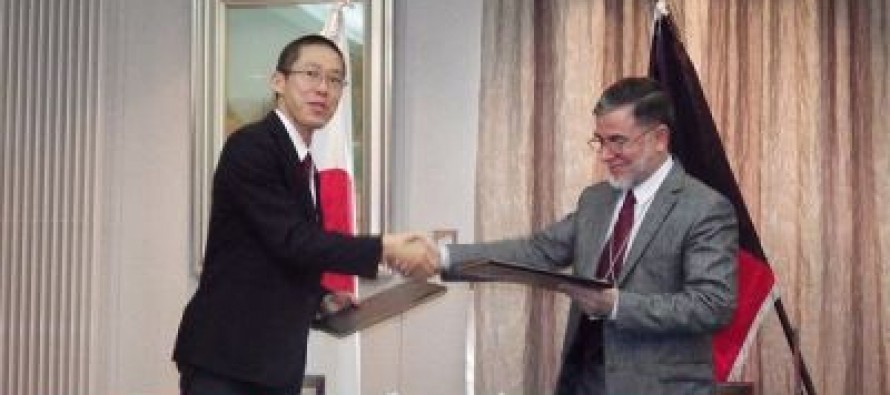 The Japanese government has pledged USD 8.7mn grant to support agriculture in the western Herat province of Afghanistan through the "Project for Improvement of Agricultural Value Chain in Herat".
An agreement to that effect was signed by Kenji Enoshita, Charge d'Affaires ad interim of Embassy of Japan to Afghanistan and Mohammad Haider Reza, Director a.i. United Nations Office for Project Services (UNOPS) at Japan embassy in Kabul.
"The Project approximately worth $ 8.77 million funded by the Government of Japan will support farmers and communities to better access markets and enhance the agricultural value chains in Herat," the Japan embassy in Kabul said in a statement.
Due for completion in March 2019, the project could benefit more than 300,000 Afghan people, the statement said.
"This project is very important for farmers and the people of Herat and for Afghanistan economy and its people as a whole.The project will enable the farmers to have easy access to markets and to store their products according to accepted standards until they find their ways to other parts of the country," said Reza.
"UNOPS is pleased to work closely with the Ministry of Economy and the Government of Japan on this innovative and critical development partnership," Reza added.
As part of the project, two of the city's largest produce markets in Herat will be rehabilitated, in addition to the construction of a cool storage facility, agricultural exhibition, and training facility, community bazaar in Injil district of Herat.
The project is expected to boost producers/farmers' income and approximately 360,000 road users will have better access to the markets and the city.
Addressing the signing ceremony, Kenji Enoshita said: "By finding new markets for the agricultural products of this country, they can not only feed the local population but also bring wealth to the entire Afghan nation as well as to the villages where they are produced."
"Fortunately, Afghanistan is very rich in horticulture products, such as almonds, pomegranates, pistachios, raisins, apricots and saffron, to name just a few. Afghanistan can promote its high-quality agricultural products to the world by improving or formulating the agricultural value chain, just as it did before the wars," he added.
This comes a week after Japan pledged to provide USD 3.3 million for the support of city resilience project in Kabul and northern Balkh provinces.
---
---
Related Articles
Last week, heads of all provincial and regional offices of the Independent Administrative Reform and Civil Service Commission (IARCSC) met
A number of parliamentarian members have declined the 2014 budget proposal presented by the Afghan Ministry of Finance. Finding the
A public library and two university dormitories for men and women have been opened in Baghlan to help improve education