Japan's irrigation scheme transforms Nangarhar's desert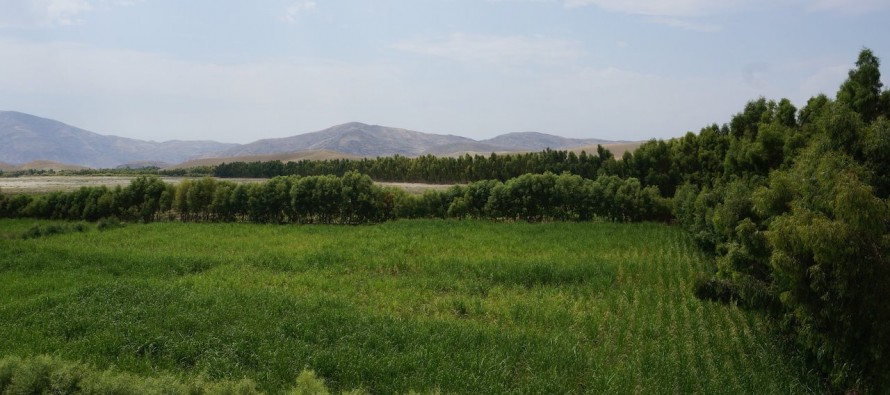 An irrigation scheme launched by the Japanese government has transformed Gamberi desert in eastern Nangarhar province into lush forests and fertile farmland.
The scheme called "Green Ground Project" was launched in 2003 and intends to irrigate 16,500 hectares of arid land, which will allow for settlement of about 60,000 new residents.
Nasir Ahmad Durrani, Minister of Rural Rehabilitation and Development (MRRD), Assadullah Zamir, Minister of Agriculture, Irrigation and Livestock (MAIL), Tomio Shichiri, Representative of Food and Agriculture Organization (FAO) in Afghanistan and Hiroshi Takahashi, Japanese Ambassador to Kabul, visited Gamberi desert to observe the progress of the project, which is led by Dr. Nakaumra, the director of Peace Model Services (PMS).
"The purpose of this field trip is to learn exceptional creativities of the PMS irrigation system which applies Japanese traditional irrigation technology of the 18th century. We are delighted to see that the Japanese old technology contributes to the improvement of agriculture in Afghanistan," said Ambassador Takahashi.
Fascinated by the outcome of the project, Minister Durrani intends to implement the model all over Afghanistan.
Minister Durrani requested Japan to cooperation in implementation of this model in six other provinces of Afghanistan.
Japanese Ambassador assured the Afghan government that his country would continue to support Afghanistan and accepted the request for six similar projects.
---
---
Related Articles
Pakistani transporters are continuing their protest against the high taxes imposed by the Afghan government on transportation of goods. The
With a cost of more than 2,150,000Afs 2 sub-projects of the National Solidarity Program (NSP) of the Ministry of Rural
The first group of young female entrepreneurs graduate from Startup Valley, Afghanistan's first private business incubator. Operated by AGHAEZ Professional