Japan's million dollar aid to Afghanistan's agriculture sector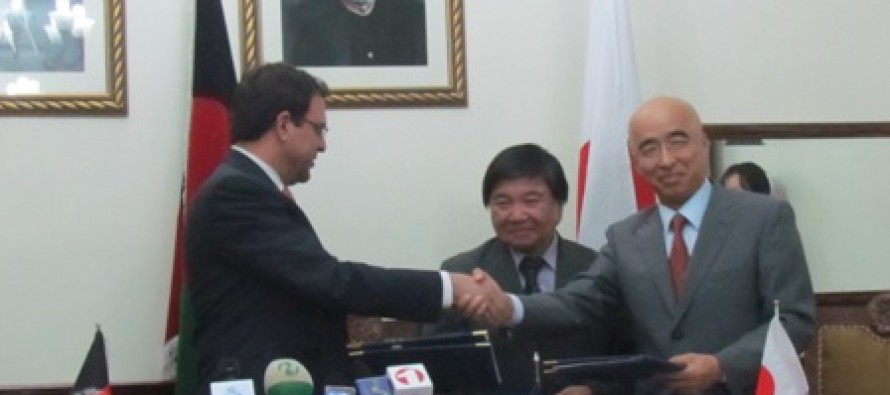 Finance Minister Hazrat Omar Zakhilwal signed the USD 18.5mn contract with Hiroshi Takashi, Japan's ambassador to Afghanistan, and the Head of the Asian Development Bank, Joji Tokeshi, on Wednesday.
The aid money is allocated for construction of cold storage rooms, trainings to farmers on protection of agricultural products and provision of modern equipment to improve the quality of edible oils in a number of provinces.
Construction of 700 cold storages rooms for potatoes and onions in Bamyan, Kabul and Panjshir and implementation of training programs to farmers in Nangarhar and Balkh are some of the main subject matters of the contract.
Minister Zakhilwal emphasized that 10,000 farmers in Nangarhar and Balkh will be part of the training programs, adding one out of every 10 training centers will be devoted to impoverished women.
The project, aimed at tackling poverty in the nation, will commence in the beginning of 2013 and end in 2016, said Minister Zakhilwal.
According to the reports, more than 80% of Afghanistan's population is involved in farming.
The international community sees the agriculture sector as the key sector for the economic growth of the nation.
"The only way to achieve economic development and national stability is through enhancement of agricultural products," said Mr. Takashi.
Meanwhile, Afghan government is also planning to dedicate USD 11mn for the improvement of agriculture sector.
Although the Ministry of Agriculture and Livestock have reported repeatedly about the establishment of cold storage rooms and distribution of modified seeds, a number of farmers say that the Ministry has not yet fulfilled their promises.
---
---
Related Articles
Almost half of births in Afghanistan are being delivered in a health facility, and just over half are assisted by
Better healthcare and more girls attending school have knocked Afghanistan from its position as the worst place on earth to
Afghan Ministry of Energy and Water (MEW) signed a contract with an Indian company, Gammon India, for a power project