Kabul and Balkh Universities Offer a New Bachelor of Communications Degree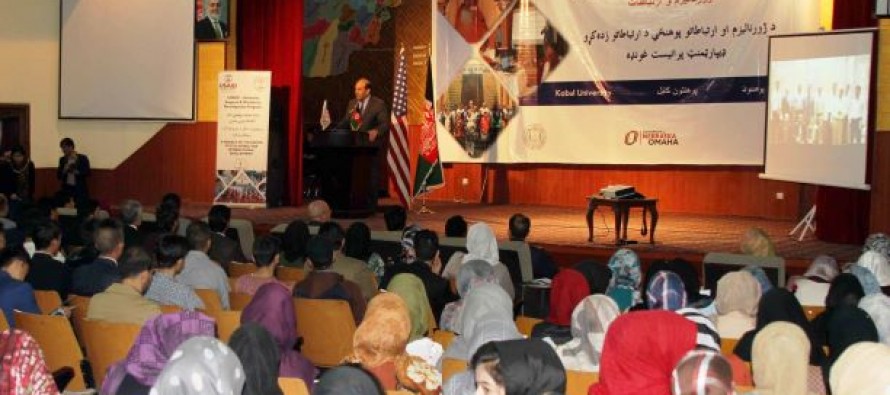 Kabul and Balkh Universities introduced Bachelor of Communications Degree programs in their faculties of Journalism and Communications.
 Both universities worked jointly to develop the program. The U.S. Agency for International Development (USAID) funded the degree program through the University Support and Workforce Development Program (USWDP) while its U.S.-based partner, the University of Nebraska at Omaha, provided resources and materials from their own communications program to coach and mentor university staff during the design. Afghan professors participated in training and workshops for the previous three years to create culturally appropriate Bachelor of Communications Degree program for Afghan students at Kabul and Balkh Universities.
This new degree program concentrates on personal, interpersonal, organizational, and professional communications with public speaking and intercultural trends. At the conclusion of the program, the graduates will be able to undertake communications, advocacy, and public outreach responsibilities in national and international organizations. Kabul and Balkh Universities can now offer competent and professional communication experts that will contribute to and tell the story of Afghanistan's success.
"Communication professionals help bring a voice to people and organizations," said USAID Mission Director Herbie Smith. "This new program will ensure that Afghans are given additional opportunities for their voices to be heard."
Chancellor of Kabul University Professor Hameedullah Farooqi said, "While there was and still is a great demand for communications specialists and experts in this country, there was not a single program to fulfill this gap. The graduates of this degree program will be employed in public and private institutions filling the communications gaps. We have a strong commitment to sustaining this degree program well beyond USWDP."
---
Related Articles
Students at Herat University have three new degree options to choose from including a Master's program in Business Administration, an
Afghanistan's central bank, Da Afghanistan Bank (DAB), has announced to sell USD 12mn in the market on Saturday. DAB requested
East Horizon' first plane, carrying 44 passengers, landed at Badakhshan airport. Three years ago, Ariana airlines, Kam Air and Pamir