Kabul hosts the first ever India-Afghanistan Innovation Partnership Fair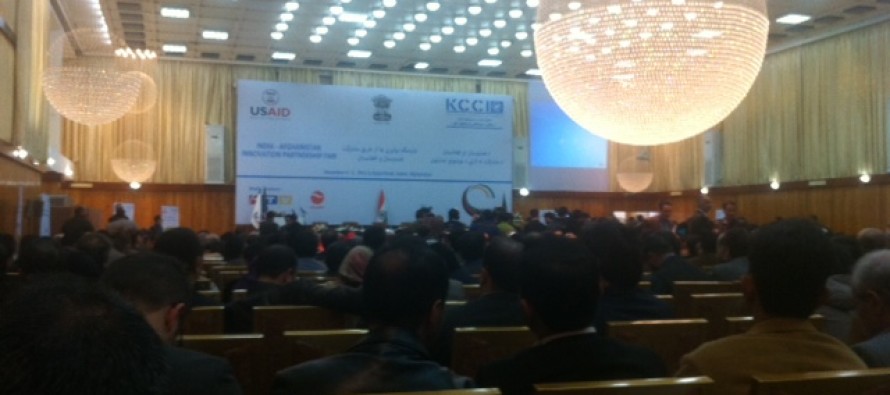 The first ever India-Afghanistan Innovation Partnership Fair is convened in Q-Kabul Hotel from 4th to 5th December with collaboration from the United States Agency for International Development (USAID) and in coordination with the Indian Embassy in Afghanistan.
Organized by the Kabul Chamber of Commerce and Industries (KCCI), the event is aimed at promoting commercial links between the two neighboring countries, India and Afghanistan.
More than 40 organizations—19 from India and 25 from Afghanistan—are showcasing products and services in Agriculture, clean energy, education, health and ICT.
Organizers hoped the fair would become a regular regional trade meeting that would help leverage Indian-Afghan creativity, expertise and resources for both countries' benefit.
Addressing the participants, Indian Ambassador to Kabul Amar Sinha said innovation needed a "curious mind" and needs no government intervention.
"Government has to step back when it comes to innovation. One of the sectors in India that has recently witnessed its record highest growth is IT sector, where government has not played much of a role," said Sinha.
On his part, USAID Afghanistan Mission Director William Hammink regarded innovation for Afghanistan's economy as a key engine for growth and economic transformation.
"India and Afghanistan are natural trading partners, and it makes great sense to support that relationship," said Hammink. "Innovation can be a strong foundation for powerful economic growth in both countries."
The fair promoters said they hoped to bring together actors within Afghanistan's "social innovation ecosystem" – meaning inventors, social-venture capitalists, angel investors, donors, service providers, and corporate foundations — to stimulate innovation-led development.
"The fair's goal is to provide greater opportunities to NGOs and private sector organizations in Afghanistan to introduce cost effective solutions to improve the quality of life."
"Since 2003, combined domestic and international investment in Afghanistan has rocketed from $9 million to $2 billion annually. The country's agriculture, health, construction, mining, and manufacturing sectors are absorbing the lion's share of the investment capital," Haji Mail Agha Khairkhwa, Chairman of KCCI said.
"Innovative solutions have helped India increase agriculture production, educate many more people in rural India and prevent diseases such as tuberculosis," said H.E. Amar Sinha, Indian Ambassador to Afghanistan. "This innovation partnership will help Afghanistan in doing the same."
---
---
Related Articles
Despite the claims made by the Ministry of Trade and Industries that gas rates will not shoot up during the
South Korean Ambassador Seong-doo Ahn once again assured the Afghan government that his country would continue to support Afghanistan's socioeconomic
With the reducing amount of trade between Afghanistan and Iran, Afghanistan Chamber of Commerce and Industries (ACCI) said they are