Kabul kicks off implementation process of RECCA-VI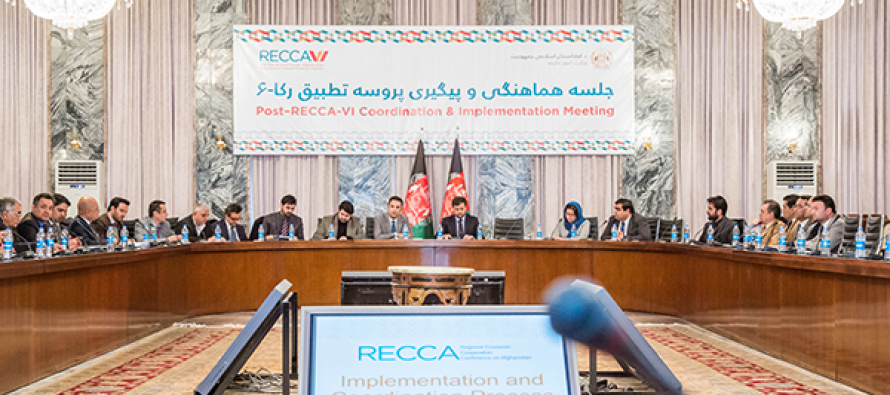 Ministry of Foreign Affairs inaugurated the coordination and implementation process of the 6th Regional Economic Cooperation Conference for Afghanistan (RECCA-VI) held on September 03-04, 2016 in Kabul, in two sessions with the participation of  deputy ministers, representatives from the economic sector, ambassadors and international organizations' representatives in Kabul.
"The new stimulus established after the successful holding of RECCA-VI and the implementation of the RECCA projects depicts the beginning of a new chapter that contains Afghan government's political will for the implementation of the RECCA projects. RECCA-VI proved that the Afghan National entities have the capacity not only to successfully host and manage a huge regional conference on its own, but also design economic projects and define the relations among the region and the world, " said Deputy Foreign Minister Dr. Naseer Ahmad Andisha, while appreciating the active role of the Ministries and relevant national entities in successful holding of the RECCA-VI.
Dr. Andisha thanked regional countries and international organizations for their construction participation and said, "RECCA-VI created a consensus among regional countries and international organizations regarding the implementation of economic projects including TAPI, CASA 1000, Lapis Lazuli Corridor, Chabahar Port, Tri and Penta lateral railways, dry ports, economic zones, and trade relations. This is one of the significant achievements of RECCA and the performances of the countries and implantation of the RECCA projects have been intensifies."
The Ministry of Foreign Affairs has now placed the implementation of RECCA projects on top of its programs. The Senior Officials Meeting (SOM) in the implementation and coordination process of RECCA at regional level will take place annually in the RECCA framework. The first Senior Official Meeting of RECCA is due to be held at the sideline of the Brussels Conference in October.
RECCA was initiated by the Ministry of Foreign Affairs in 2005 and has been held every two years in New Delhi, Islamabad, Istanbul, Dushanbe and Kabul, respectively. The RECCA-VII is due to be held in the capital city of Turkmenistan, Ashgabat, in 2017.
---
---
Related Articles
The foundation stones for two major  projects worth around  $4 million were laid in northern Balkh province by Indian ambassador
The Lower House of the Afghan Parliament approved the budget for the year 2014 by majority. The first draft of
President Hamid Karzai left for Ashgabat, the capital city of Turkmenistan, on Wednesday to attend the inaugural ceremony for an