Kabul traffic, who is at fault?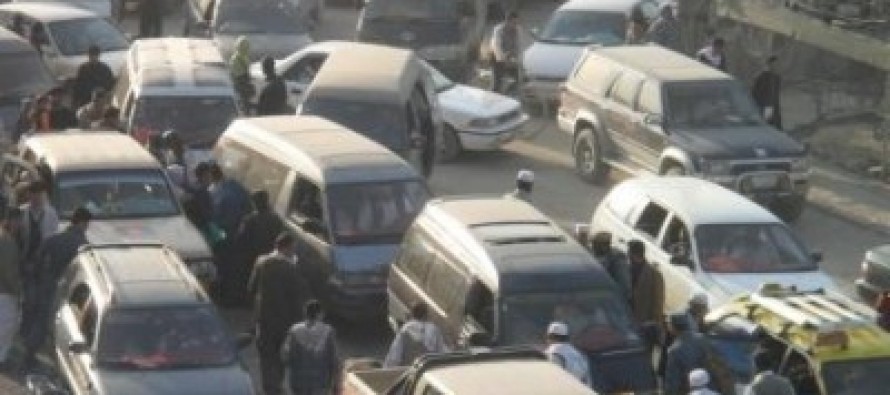 The chaotic roads of Kabul have left many in despair. The traffic jam has become a never-ending challenge that neither the authorities nor the residents of the city can resolve. The vendors, carters, porters working on pathways and sidewalks only add to the already congested roads. Some ambulance vehicles hardly make it to the hospital on time.
The growing population in Kabul city as well as the increasing number of vehicles automatically deteriorates the traffic situation. Let's not forget the omnipresent potholes, bumpy roads, and pedestrian overflow that further cause frustrations and delays. The mayor's office had estimated that there were 650,000 vehicles on the narrow streets of Kabul, which can only accommodate about 30,000.
Who is at fault, though?
Some drivers have blamed the Traffic Policy officials for charging illicit fines and asking for bribes. According to Tolo News, Kabul Traffic Police have reputed accusations of improper fines and bribery, explaining that most people aren't aware of the regulations for drivers and so they are in frequent violation.
"Traffic [Police] cause us problems, they ask for a License and our cars' documents in every square, and when we show them, they make up an excuse about how your car is overloaded," Tolo News quotes truck driver Mohammad Amin.
Many blame high ranking governmental authorities who block the city's roads while commuting from one side of the city to another mainly due to security concerns. When one road is blocked, the city turns into a bedlam, where all the vehicles, no matter where they are headed to, have to be on the same road. This is something that the residents of Kabul city have to tolerate, as the security situation of the high ranking government officials is a priority.
Meanwhile, Traffic Police officials accuse the drivers of lacking driving etiquettes. It would not be surprising to see cars moving against traffic on one-way streets, ignoring traffic lights and driving recklessly fast.
Nevertheless, with virtually no signage, few traffic lights and no lane demarcation, it is hard to hold individual drivers or Traffic Officers entirely responsible for the unruly nature of driving in Kabul.
---
---
Related Articles
Transparency International officially launched its three years program for fight against corruption in Afghanistan. The Afghan-German Cooperation is supporting Transparency
A newly established power sub-station has enabled 102 factories to resume production  at the Ali Sher Nawai industrial park in
Recent forecasts have indicated that the US economy shrank by an annual rate of 32.9% between April and June as